Uwowo Game Genshin Impact Cosplay Fischl Prinzessin der Verurteilung Cosplay Costume Amy
$102.00

$102.00

Save

$-102.00
---
---
1.It is best not to place pre-sale products and spot products together in an order. 


2.When there are both pre-sale and instock items in an order, we will ship the order after the pre-sale products are in stock.
3.Pre-sale Orders can change the size and can be cancelled whenever before sent out, please contact us if you need to change the size or cancel the order with your order number.
M/2XLS/L/XL in stock, 3XLwill be in stock in Jul further notice if there is any change of date.
Click here if you need the wig and shoes>>>
Photographer 
@chmrke
---
We Also Recommend
---
Customer Reviews
06/01/2022
Overall great experience!!
The costume is well made and true to size. Also got here in a timely manner. For those with big thighs be mindful of the legging with the strap because it can be tight when sitting down!
Fruit

Canada
03/01/2022
really good
the cosplay is really good but the vision and piece were broke and some places has very light places but the wig hides it. 10/10 very good
Anonymous

United Kingdom
02/19/2022
Great cosplay!
Accurate to the photos and very good quality! The thigh highs are kept up with a strap, but if you have long legs or a big butt, it's really hard and uncomfortable to keep the strap up. I plan using elastics to make it longer. Other than that, it's a very pretty costume with lots of details.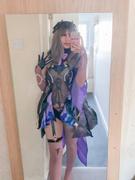 Elikathal

United States
11/23/2021
It fit with adjustments
The costume is very well made and the fabric choices and details beautiful. I ordered the XL which is just at my measurements of 38-34-42. I was a bit disappointed at first when I got it and realized that we could not get the back zipped up. At first I thought that the costume was possibly to small. But then I noticed that on the bottom area of the zipper on the stretch mesh material are a few pieces of non stretch fabric for details. I chose to remove these pieces carefully and the zipper no longer had any issues zipping up or down. The top part could be more accommodating to larger chests. I'm a D cup and my ladies are practically plastered up in there but the support is very good so I can't complain to much. I really really wish the one stocking was separate from the costume and that they had put a snap crotch in it. The costume is difficult to wear all day when you have to take it completely off to use the bathroom every time. It was also a little disappointing that the included vision is super heavy and doesn't light up. Overall though I'm incredibly happy with the cosplay and can't wait to wear it for more then just TikTok.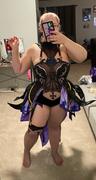 Luna

United States
11/11/2021
It was great but some problems
I loved the cosplay and everything about it but I got an XL but it was still a bit small especially the bottom part was tight since I have bigger legs and the vision's pin part fell off the vision but it was no problem since I just super glued it back on. I love the cosplay but im not sure if I'll wear it publicly since it's a bit tight at the bottom and revealing so it's just like a for me thing but one day I will take it out.