【Pre-sale】Exclusive authorization Uwowo Game Genshin Impact Fanart Mona Maid Ver Cosplay Costume
Next batch will be in stock in Aug

1.It is best not to place pre-sale products and spot products together in an order. 


2.When there are both pre-sale and instock items in an order, we will ship the order after the pre-sale products are in stock.
3.Pre-sale Orders can change the size and can be cancelled whenever before sent out, please contact us if you need to change the size or cancel the order with your order number.
Click here if you need the wig or Led vision.>>>

---
We Also Recommend
---
Customer Reviews
Skullcaramel

Spain
02/07/2022
Really cute
The cosplay is beautiful but some parts came "damaged", the tiny hat came without the star on the point so it looks kind of odd (I'll end up making one) and the chain was not like the one on the pictures so I had to alter it, apart from that I also changed how the ribbons on the front of the dress came placed, made a petticoat so it'll sit better and sew the back bow in place because if not it just didn't look right, so yeah it might take some work but it looks really nice (I'm not wearing the panties that came with the cosplay in the pics since I was just making some adjustments)
Anonymous

United States
01/14/2022
Shipping was fast
Amazing quality, the shipping was quick
Cole

United States
Anonymous

United Kingdom
12/25/2021
Perfect
Perfect super lovely quality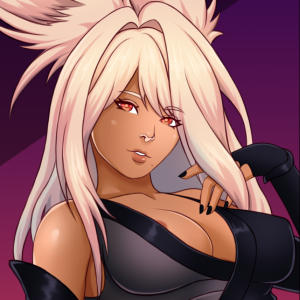 Y
Yuki

United States
12/24/2021
Cute Mona Maid
It took me a while to get into, there's a lot of bits and pieces to attach and put together. It's kind of fun getting it all ready. There are a few safety pin items like on the bows that are a little bit of a pain to use because they don't spring back. The only complaint I have is the choker is too small for me and doesn't connect to the outfit at the size that I ordered (XXL). I will have to find a way to lengthen it. There's also a few pieces that aren't explained how they go together, but it's not a big deal. The materials don't feel cheap, it's really cute when wearing it which I was worried about but it honestly looks good. Would totally recommend!