---
We Also Recommend
---
Customer Reviews
05/15/2022
I love it
It's such a great costume, the quality is amazing and it has a lot of details (which I loooove). It took a little longer to be shipped since it was on pre sale, but the waiting time was totally worth it.
Claire W.

United Kingdom
04/28/2022
Really great cosplay!
I really love this cosplay! The quality is great, it is flattering and I feel very pretty in it. The cape particularly is gorgeous and I'm excited to wear this to a convention! One of the stars on the cape did come apart during transit and the stitches at the crotch were loose, but both of these things were an easy fix. It is worth sizing down, however. I am 78-68-96 and even though I am an XL on the size chart due to my hips I decided to go with an M after seeing the reviews. It fit perfectly on me, so do be wary that this M is a large M, The fabric also has a good amount of stretch and is very accommodating, so sizing down might be ideal for a tight fit.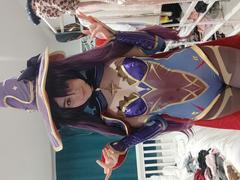 Anonymous

Canada
04/21/2022
Overall satisfied!
Love this cosplay! Some parts had to be fixed and adjusted, such as the sleeves that were way too big and kept sliding off my arms. But overall the cosplay is comfortable and accurate! The bodysuit fits perfectly, I would have preferred if the bodysuit and tights to be 2 separated parts though, but this is something that doesn't really bother me when fully on! The hat is obviously hard to keep on but still love it, it keeps it's shape easily with the wire inside! It was worth it and is also quite affordable for a Genshin cosplay! Makes me feel confident while wearing it!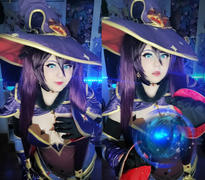 Anonymous

Austria
04/02/2022
Amazing
It's such good quality! Nothing came broke everything fits perfectly! First time trying it on was confusing because of all the parts but it looks amazing:D
Dalila B.

Italy
03/31/2022
nice, very similar to the character
beautiful cosplay, suit perfectly on me