---
We Also Recommend
---
Customer Reviews
Franziska

Germany
08/09/2021
Really pretty!
The dress is really beautiful and fits pretty well, eventhough i have no boobs xD Its a little bit short at the back and will probably reveal a bit of the butt. The choker and the belt are really beautiful too and there are lots of little accessoires! Sadly the sparkling pink stocking is way too big for me at the upper part and the things that are on the gloves are so small, i cant even put them over my hands. The rest of the cosplay is extremely well made and the quality is really good!
Andrea P.

Mexico
06/01/2021
A little bit short
I think the measures were very tight, the costume was short for my size.
Elke

South Korea
05/13/2021
Quite Satisfied
The dress was beautiful, didn't have a problem with the size(S) (I am 150cm tall and 45kg), might fit more beautifully on slimmer build. But the zipper was hard to close at just above the skirt. Gloves are perfect for me since my hands are small. The socks are fine, the glitter sock is loose at the upper part but a rubber band can do the trick. Overall it's worth the money.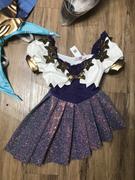 Romane V.

France
Kyonatix

United States
04/20/2021
Yet another gorgeous Cosplay!
This costume is so pretty! When I say there is a lot of glitter and shine. there is a LOT pf glitter and shine. Its really pretty and skirt is made of a glitter fabric. The white parts are also very glittery as well! The wings are also very big and cute. look amazing with the cosplay! I had to pin the socks to tights but it worked out.