Uwowo KDA All Out Evelynn Cosplay Costume League of Legends LOL Agony's Embrace Costume K/DA
costume in stock now~
The tail can only be ordered separately ,because it is too huge to be packed with other items, so please do not order it with other items .And only order one piece per time,Thanks .

The tail can only be ordered individually .
The tail can only be ordered individually .
The tail can only be ordered individually .
If you buy several tails at the same time, please place the order separately. We will not be responsible if the airline charges an extra fee or is intercepted by the customs because of the large size caused by the simultaneous purchase.Thanks for your understanding.
Click here if you need the wig>>>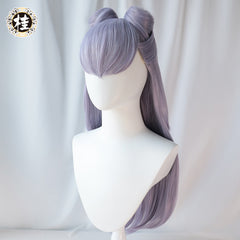 ---
We Also Recommend
---
Customer Reviews
Anonymous

Italy
09/02/2021
Okay but needs improving
The item was ok, but it needs a little bit of improving on the materials and the sewings
AnimeAmvMusicFreak

Germany
08/01/2021
Fine
Almost everything was really good. The fit of the bra was off. And my hips where to big for the skirt, but hips wherent in the size chart, it made me a bit upset. The Jacket is really stiff.
Thiare U.

Chile
07/01/2021
Great choice
love the quality of the materials. You only need to make sure of the sizing. It fitted me like a glove, great details and colors. Will buy again from this store definitely c:
Anonymous

Belgium
07/01/2021
Good quality but sizing a bit off
The fabrics are awesome, great quality. Downside was the sizing is a bit too small for me and the skirt is really short. The bra doesn't give any support and pulls a lot at the neck. Overall greay fabrics and good quality. Sizing and shape could have been better.
Mallyboouwu

United States
07/01/2021
Weird fit. Nice material
I was actually pretty disappointed in this cosplay. Definitely not for curvy girls or anyone with a larger chest. I am a D cup, and there is no way to adjust the bra part. So basically my ladies were falling out the top or bottom of the top.. Also, the shoulder pads on the jacket are just bulky and strange, no real stretch to the garment in the skirt top or jacket.. however the material is very nice high quality and the wig was great.