UWOWO Deadpool Cosplay Costume Wade Winston Wilson Bodysuit Deluxe Full Set Leather Outfits Halloween Cosplay
The part of the eye in the headgear is hollowed out!
---
We Also Recommend
---
Customer Reviews
Jon J.

United States
12/04/2020
Dadpool finally got a legit Deadpool suit
I myself really loved this costume. A much more accurate representation of the movie costume. Fit great and I was a hit with kids and adults as I walked my kiddos around the neighborhood. Took pictures with them and also on Instagram, @Dadpoolmusselman I definitely look the part and it is beloved on my social media accounts. I just wish I had waited for the sale price and saved me $20 some odd dollars. It arrived fast which is a huge bonus! Lovin this suit and at times I wear it around the house just for the h*ll of it. L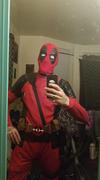 01/21/2020
great vendor!!ship very very fast!!the costume is great .i'll buy again from this store .thank u!!
Jan S.

Czech Republic
12/04/2019
Deadpool
Next time maybe I need bigger size :D ..M -> L :D