Uwowo Game Genshin Impact "Travels Afar" Scenic Area Collaboration Lumine Casual Outfit Cosplay Costume
1.It is best not to place pre-sale products and spot products together in an order. 


2.When there are both pre-sale and instock items in an order, we will ship the order after the pre-sale products are in stock.
3.Pre-sale Orders can change the size and can be cancelled whenever before sent out, please contact us if you need to change the size or cancel the order with your order number.
S/M/L in stock, Xl is pre-sale, next bath will be in stock in Mar or Apr ,further notice if there is any change of date.
Click here if you need wig>>>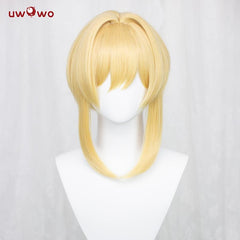 ---
We Also Recommend
---
Customer Reviews
Elikathal

United States
12/27/2021
Cute outfit, good fit, but some issues
I ordered this really close to when the presale date said it would be shipping and it shipped out on time. I paid for the priority shipping upgrade and had it 6 days after receiving the shipping notification. The outfit is well made and as pictured both in the art and the display. The top is made of a stretchy material but the black band around the top is not so it doesn't allow the top part or the top to stretch very much which made it slightly tight on my 38 inch D cup chest. The waist of the top widens so the rest of it fit as I would of expected and was comfortable. I have a 34 inch upper waist, 38 inch lower waist, and 42 inch hips. The shorts fit me perfectly worn on my lower waist but the edges of the bottom of the shorts aren't hemmed or seal and were starting to fray upon being removed from the packaging. The choker fit my neck which is 15 inches well and could be tighten or loosened. The coat can be worn an pictured but not closed as it's about 6 inches to small to close on my chest. The coat is rather uncomfortable especially on the upper arms sense the shirt is sleeveless and the coat plastic/vinyl. It has a bit of a bad smell due to the material as well. The gloves are super stretchy and fit despite me having bigger arms but I'm sad that they appear to have "let's slim" printed on them. I don't see this detail on the art and it seems like these were bought gloves meant for compression. I also found it weird that the blue wrist bands are just blue elastic which makes them uncomfortable to wear. For the cost it's a very nice cosplay and I am happy with it and would recommend buying.
12/04/2021
Good cosplay, i recommend it
It is very nice quality and not too expensive, i am happy with it. The shipping to America was expensive but it's expected. It arrived on time.
Ruby

Netherlands
10/16/2021
Great cosplay
I really love how it looks. It's a good material and feels really light. Even though the jacket might stick it felt great. (Even managed to take some pictures on a con with my favourite cosplayer)