UWOWO Toilet-Bound Hanako-kun/Jibaku Shounen Hanako-kun Cloak Cosplay Costume(Without uniform)
1.It is best not to place pre-sale products and spot products together in an order. 


2.When there are both pre-sale and instock items in an order, we will ship the order after the pre-sale products are in stock.
3.Pre-sale Orders can change the size and can be cancelled whenever before sent out, please contact us if you need to change the size or cancel the order with your order number.
L is pre-sale,  will be in stock in Dec or Jan,further notice if there is any change of date.
If you need Uniform click this picture>>>
---
We Also Recommend
---
Customer Reviews
Arif A.

Malaysia
03/01/2021
Good overall
Product quality is really good for what you're paying for. Shipping didnt take too long for me so overall pretty good experience for me
Yelamaramy S.

United States
10/27/2020
Costume..
This costume is a request from my daughter, who is a fan of Hanako-Kun. I must confess that I thought it would be of poor quality and that it would not look like the photo; It is perfect, just like the photos shown on the internet, I am impressed by the quality of the product, it is very well prepared, taking care of the details, the neck to the correct size, the cape has a part inside to put the arms, which makes the layer stay fixed. The details of the shoulders are very good, they remain fixed and do not move. Finally, it is a thick layer of red on the inside and black on the outside that is fantastic. We are really very happy with the costume. I pay for fast shipping and I arrive on time. Although this page of UWOWOCOSPLAY.COM was not one of the first recommended by Google because I found it for the price and the delivery date and it was a success 100% recommended ______________________________________________________________________________________ Este disfraz es una solicitud de mi hija, quien es fans de Hanako-kun. Debo confesar que pense que seria de mala calidad y que no se pareceria a la foto; pues es perfecto, igual a las fotos mostradas en internet, me impresiona la calidad del producto, esta muy bien elaborado, cuidando los detalles, el cuello a la medida correcta, la capa tiene en su interior una parte para meter los brazos, lo que hace que la capa quede fija. Los detalles de los homros quedan muy bien, quedan fijas y no se mueven. Finalmente es una capa gruesa roja por dentro y negra por fuera que queda fantastica. De verdad estamos muy contentos con el disfraz. Yo pague el envio rapido y llego a tiempo. Aunque esta pagina de UWOWOCOSPLAY.COM no fue una de las primeras recomendadas por Google pues di con ella por el precio y la fecha de entrega y fue todo un exito 100% Recomendado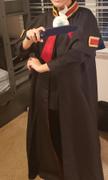 05/10/2020
I adore this cape so much!!! Mobility is super easy with this cape, collar is nice and firm, clean hems, great detailing. The shoulder pieces I was afraid they might fall off, but seem pretty sturdy. They are also flexible so you can bend them to fit around your arms better. The cape also has a snap closure so it is very secure when worn. I got a Large and am happy with the length. I am 5' 6" so I recommend going with a large if you are my height or taller (or if you plan to wear heels/platforms. Conclusion- if you want to get the cape buy it from here!!! I also bought my costume and other accessories from this store as well (see the other listing for my review on those items!) If you have any questions feel free to message me at my Instagram - @decipheredcosplay ♡