Uwowo Re:Zero Starting Life in Another World Ram Halloween ver. cosplay costume
---
We Also Recommend
---
Customer Reviews
Nicole F.

United States
01/03/2021
Beautiful!
First off, thank you for offering this in an XL! I'm 37/32/30 in, 5ft 4in tall for reference, there was still some space for 2-3 more inches in the bust and waist max, on the tights are something I wouldn't recommend for anyone taller than me and an inch larger in the hips max. The costume is just lovely and very comfortable.The boot covers were the only odd item, I just don't have a boot that would match. The tail is fully posable. There is cotton batting sticking out in spots and it's not flush with the pleather. One glove had some chain stitching hanging out. Both issues are 100% correctable.
Cyndel N.

Switzerland
11/26/2020
AWESOME
Awesome costume with a nice quality! I bought an XL size and I was happy that accessories fit me ! Thanks a lot!
Marilow

Mexico
11/17/2020
Costume was very pretty but with something issues
The quality of fabrics were great! It didn't arrive on time for Halloween but costume is very pretty ! Only issue is that the zipper did not hold on its place and do not close, it was an easy fix but still a little bit annoying, beside all that the costume is great!!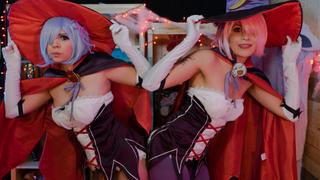 Kyonatix

United States
10/29/2020
Stunning! Perfect Halloween costume!
This cosplay is amazing! I can't begin to express how comfy it is! all the fabrics are very nice and soft. The shirt is well made with multiple layers including lining and bra pads. The cape is made of such a nice silky fabric that matches the hat. The hat itself is adorable and stays in place very well on the rim. I did have to pin it to my wig though to keep in on me. I will always support Uwowo in every regard! They have amazing and super nice people running their support and social medias. I love how fast they reply and answer my questions!