---
We Also Recommend
---
Customer Reviews
Reminya

France
Lia

Germany
09/05/2021
Super pretty costume ♡
I'm in love with this cosplay ~ It's very detailed and I appreciate the fact that it comes with two tattoos instead of just one! There's not anything I could really "complain" about - sadly, my earrings arrived broken but they were easy to fix, so that wasn't an issue for me. As you can see on my photo, I altered my costume quite a bit (to give it a little personal touch) but you definitely don't need to do so ;< This cosplay is already quite beautiful as it is ♡♡ Also, I'd say the size chart is pretty accurate ? I usually size up (I ordered M) just in case since I have rather large hips QwQ
Magicalmeowachu@Gmail.Com

United States
08/26/2021
Very detailed cosplay!
I love this cosplay. It's super detailed and a bit big at the top. I ordered a size XL. It took me a while to learn how to put everything on. The pants is the only issue I have because there is a part where there is some skin-toned fabric in the middle when I am darker-skinned. But its an easy fix as I only have to just cut it off.
Kyonatix

United States
03/24/2021
Gorgeous yet again!
I recently wore and reviewed Ishtar and that was STUNNING so I was extremely excited to wear the Ereshkigal bunny suit as well! All for there bunny suits are incredible! Makes me want to buy more of them as well! I love how well this one fit and I had a better time piecing all of this together and nothing broke like the Ishtar one. I love the fabric choices a lot and all of the details are really nice! Thank you Uwowo!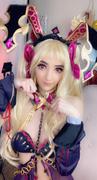 Nessalis

Poland