---
We Also Recommend
---
Customer Reviews
Hope F.

United States
Anonymous

United States
11/26/2021
Amazing quality but very small
I absolutely love the quality of this cosplay, however some extra work had to be put into it. I ahd to replace the zipper and deconstruct/reconstruct the neck part since it was so tiny and literally choking me. Definitely runs small so keep that in mind! I would give it 5 stars, but since I had to alter some pieces that bumps it down to 3. Otherwise it's a perfect cosplay! Just not really meant for "thicker" cosplayers
Dision

Italy
11/01/2021
Good but not enough
So, I am 1.74m x 60 kg, the overall costume fitted well (even if it was a bit short but that wasn't a problem) but the pants not at all! I took the size M (perfect for the rest of the costume) and the pants fitted more like a body (leaving uncovered the butt) and really thight! I had to modify them and luckly it worked. The details are perfect and the fabrics too! If you have to do a photo session and nothing more, you won't have any problems, but if you go to any cons or comics festivals where you have to walk all day, be careful, the brooches can easily break away and you can lose some important accessories (guoba plush, vision or the knots on the gloves), better sew them! Also there was a very bad problem: the bells can easily cut the wires and fall from the costume (happened twice) so maybe it's better if you put an elastic or something more thick to attach the bells. Also, but maybe you figured it out already, the accessory on the leg (the garter) keeps falling everytime you walk, i pinned it with safety pins on the pantyhose. Overall, the costume was really comfortable and everyone was amazed by it! It's a good costume but for how much it costs, i expected more quality for the pins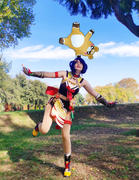 Jessica C.

Germany
I.

Italy
08/06/2021
Disappointed
I checked the size chart correctly and the shorts are so small. I can't wear them. I ordered a larger size (M, and I usually wear a S) and I'm 70cm on the waist and 88cm on the hips… just no. The bell on the waist doll almost fell off, same for the back accessories and I have to glue a lot of stuff by myself on the costume… the only good thing is the fact that they included two hot glue stick in the package. Overall not good for the price.