---
We Also Recommend
---
Customer Reviews
Bananana P.

United States
gintku

United States
04/08/2022
Awesome Chocola Cosplay
I wanted this cosplay for a while and I'm so happy to finally have it! It's very cute and good quality. Only problem I had with this cosplay and the vanilla cosplay version is that the thigh high socks kept falling down bc they were too big and short for my legs qwq If I wear this cosplay out in public, I would use something to keep the socks up. Other than that the cosplay is great and I couldn't be happier <3 more pics on my insta @gintku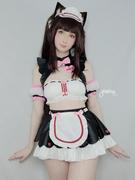 jaiden

United States
11/01/2021
AMAZING!
i ordered it as a pre-order, and it came in about 3 months, however once it shipped it took about 3 days to get here! i'm super happy with the costume itself, it's very well made and fits me very well. be careful though because i am very VERY small. i ordered a small and it fits me perfectly, so if you're between a size i'd suggest sizing up! the only thing that didn't fit me were the socks but i have skinny legs so most people should be fine!
Anonymous

Norway
07/13/2021
Nice
Fit perfect but the top was itchy but still good
Kayla D.

United States
12/02/2020
Oksih
for $16 shipping i would've expected muchhhhh faster but the actual outfit was good but like it's the exact same on aliexpress so might as well get it there n get it quicker