---
We Also Recommend
---
Customer Reviews
Lia

Germany
04/01/2022
Very cute costume
I really like this costume overall ~ Like some people mentioned already, it is quite tricky to get into it tho ;w; But besides that, I'm pretty satisfied with the quality and fabric choices ~ I didn't use the included ears & tail since I didn't like those at all, but they're definitely not a bad choice if they're all you have / if you are on a budget o3o Regarding the sizing, I'd say it's very accurate! I purchased size M since I wanted the additional space in the bust area in order to wear multiple bras since Coconut's chest is way bigger than mine xD I also own Vanilla's version of this costume in size S and it fits me perfectly!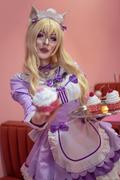 Merel K.

Netherlands
12/26/2021
Super cute dress and great quality!
The dress is super cute and the quality o the dress is great! It fits perfectly (even tho my shoulders and hips are somewhat bigger than my waist, so I do need help to get out of the dress because of the zipper placement). Only sad thing is that the heart shaped buttons fell off really fast and the tail did get a little hole in it (easy fixable). The ears are less quality as they're kind of 'fake-ish' ears, but I think its cute enough already that I got so many stuff with the dress for this price! Great price-quality for sure! And I wear my custom ear set whatsoever.
Julia

Germany
Anonymous

Canada
11/02/2021
I love this cosplay! Almost perfect
This cosplay us super cute. I bought both this one and chocola and theyre both great quality and fit. I usually wear a north american size 4-8 depending on the brand and got size L. its a little tricky to get into but possible alone and not too difficult at all with help. There was a dark black spot that looks like marker on one of the necklaces, that was the only issue straight from the supplier and I don't really mind given the cost being pretty low and the quality overall very high. My only other issue is one of the zippers burst after only wearing for a couple hours total. Again this doesn't bother me personally because I can just replace it with a sturdier zipper but its something to keep in mind. Overall this dress is much nicer than one you could get from aliexpress or amazon and all the accessories are really high quality too.
gintku

United States
09/10/2021
Perfect Coconut Cosplay
Very cute and nice quality cosplay. unfortunately the wig I preorder got lost so I haven't been able to cosplay her yet but when it arrives I will post pictures