SPRING SALE: 27th-31st MAR PST
$59-$3:MAR3/$99-$5:MAR5/$199-$10:MAR10/$299-$15:MAR15
Regular price
$102.00 USD
Sale price
$96.90 USD
Unit price
per
Sale
Sold out
Costume Size

The sizes vary for different costumes. Please kindly check the size chart in the description and measure yourself carefully. Most of our costumes are in Asian Sizes, please go one size up if are not sure about the sizing. 

Our models are mainly wearing M size.

* The cup may change for different costumes.

More reviews+pictures can be found on our IG highlights. (external link to our IG)
Presale+Instock

Any presale+instock items in one single order will be shipped when the presale items arrive.


In-stock items: *Labelled 【In Stock】on the title or in the description 

Your order will be processed and shipped within 48 hours. 

Pre-sale items: *Labelled 【Pre Sale】on the title or in the description
It usually needs few months for the batch production. Your order will be processed as soon as the costumes are in stock. Estimated time of arrival can be found in the description below. ETA might be delayed.


Contact us as soon as possible if you need any changes on your preorders.
Shipping Info

Shipping time begins after your order is shipped depending on the shipping methods you choose at the check-out page. Once your packge is shipped, a shipping confirmation will be sent to your email.


INTERNATIONAL SHIPPING
*Commercial Shipping: 7-15 working days 

*Express Shipping: 3-7 working days

*ePacket/China Post: 15-40 working days

Shipping Delay
Due to delays from the pandemic, from being short staffed and from handling high volume of packages during the holiday season, the international transportation and local delivery might be delayed.
Share
XS/S/M/XL in  stock , L/2XL/3XL next batch will be in stock in Apr or May
Click picture if you need the wig>>>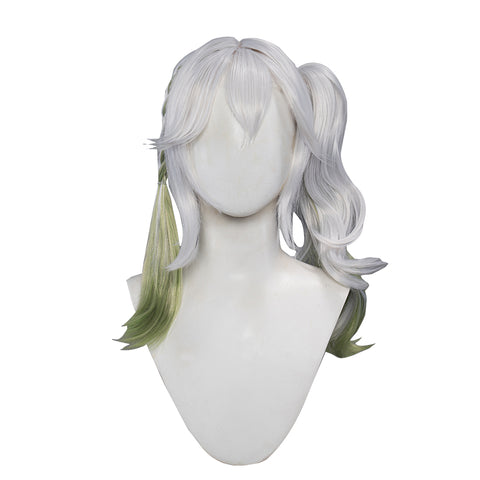 View full details
Customer Reviews
01/27/2023
easy to wear, comfortable, and accurate to character
I purchased a size XS and am 159cm/45kg. If I could go back I'd choose S instead, since the dress was a little short on me. The petticoat comes in one size only, so to fit it under the dress I pulled the petticoat all the way up over my chest. I highly recommend the petticoat for Nahida's characteristic 'chibi' look. Additionally, the costume needed to be steamed (ironed) a little before I wore it, since it was a little wrinked (as expected when it's sent in a small package). One thing to note is Nahida's little foot covers (shoes????) were a little floppy so I taped them to my legs to keep them up... it was a little janky but it worked!
Cegan

United States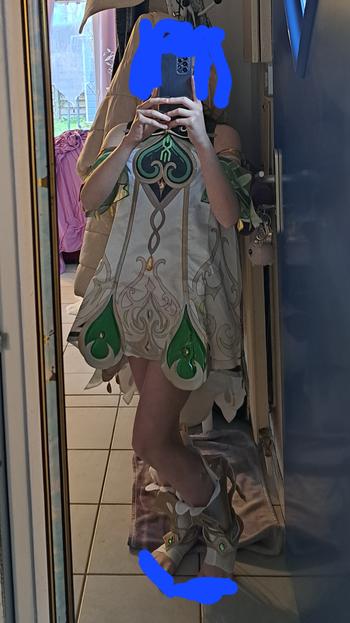 01/18/2023
Sooo Gooood
the most beautiful and comfortable cosplay of my life no things to break good sizes arrived in a very short time thank you very much for those cosplay I'm so happy !!<3
Camille

France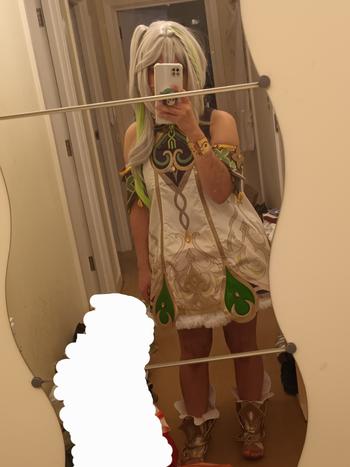 12/22/2022
Amazing Nahida cosplay
I'm really happy with the cosplay! The materials they chose are so pretty as it has a slight/subtle shine to the cosplay and its all really well made. Definitely keep an eye on the size chart as I went with a M which fits perfectly but I initially planned to get an S and if I did the shorts wouldn't have fit at all so I went with Uwowo advice sizing up since I wasn't sure. Overall I'm really happy with it, it's super cute and comfortable!
Link

United Kingdom
12/15/2022
Nahida's cosplay is perfect
My experience is pretty good, the cosplay was on pre-sale but I've wait in another occasions, but when it arrived at my country (Chile) it was a lot of time on the airport, like 10 days, fortunately I didn't have to pay the customs. The cosplay is perfect, the size (XL) fits me perfect, I love the accessories, I have nothing to say except to congratulate Uwowo for this comfortable cosplay
Hananin

Chile
03/09/2023
Would Recommend
I was a bit worried this wouldn't fit considering the sizing but it did. It's easy to get on and off, plus it's comfortable and not itchy at all. Adding a petticoat definitely helped add volume to it.
Jayda

United States
03/07/2023
Very cute and exact details
I am very satisfied about that cosplay. The quality is quite high and the details are on point. Would recommend
Luxia H.

Germany
03/01/2023
Good quality and mostly fit
The quality was really nice and everything came as it should have. Being a plus size person, it is hard to find stuff that fits in my size. I did have to alter the dress, 3XL, to fit my chest. The gemstones on the bottom of the dress fall off easily, and I have asked for replacement stones and they said they do not sell them, so be cautious of that and if anything add some extra glue or something around them. Personally I had a hard time with the shoes, getting them to stay up in position and the gold parts to not hit my feet. Overall I rate it a 8/10!
Anonymous

United States
01/26/2023
Plus size/Hourglass bodyshape review
I usually wear a (european) Large in dresses, but checking the sizing guide I was between XL and 2XL, I decided to do 2XL juuust to be safe bc these tend to ran on the small side, but could have gone with XL. Since this is a very loose, boxy style dress, I didn't expect to run into any problems and I did not. Overall, this cosplay looks adorable!! It comes with plenty of nice accessories! DRESS - The fabric is thin with printed-on designs, pretty standard cosplay stuff, with a slight golden shimmer and has another thin white layer on the inside. There are with some more solid plastic-y details (the 'metallic' details) which give structure to the dress and look pretty nice, they have a muted golden colour with a metallic effect. There's also the green "teardrop" shapes in the ends of the dress, which have a short of "raised" plastic effect and a beautiful green color. The "bowtie" is also made of plastic and is attached to the collar of the dress, which has a pretty cute lace, matching the shorts (I'll get to those later though). The dress has some beads and gems, which look pretty okay, and some beautiful golden leaf charms at the ends of the dress. The leaves are a bit higher quality than expected and feel heavy. The dress doesn't have ANY zippers, instead closes at the back of the neck with velcro. There are two subtle buttons at the back of the dress near the neck where the back piece gets attached. There's an elastic at the armpit section where the sleeve cuts so it will fit better and stretch. Overall, the dress is great and looks adorable, though the velcro is not an ideal choice. It gets caught in the lace of the neck and the wig/hair and doesn't overall feel THAT secure, especially with the back piece adding weight to the back of the dress, but it didn't move or come off when trying it out and doing some tests, just became a little loose (and stuck a bit on my wig hahaha) I will put a pin on it for long wear, though it seems like it is going to stay in place for a photoshoot. Also, as expected the dress falls in this more straight, boxy way and while it did come a bit shorter on the front because of my bust size, it wasn't a problem. If you want it to puff up like the picture at the bottom, you will have to wear some short of underskirt. BACK PIECE - The back piece is also made out of thin fabric, with the same plastic details and still a tiny bit of shimmer, though barely noticeable and it looks more silver? It has tiny golden wings and a golden bell, which chimes ADORABLY with a little gem dangly thing. It secures to the dress with the buttons mentioned before. You have to secure it on the dress before putting the dress on and then re-secure the buttons or have someone put it on for you (because it is almost impossible to do it on your own after the dress is on hahaha). Again I would personally secure it with pins for longer wear, and one of the buttons did unbutton during testing, but again it most likely will stay on for a photoshoot. SHORTS - Oh god. I'm not going to lie. The shorts did fit. That was not the problem. The problem was the very thin fabric and how transparent they were. I was thinking maybe it was a size problem, but no, the fabric is too thin to hold a more "bloomer" shape. I guess transparency is not a problem since they go under a dress, but just a heads-up. And the bows look. Like bows, but only from afar. Overall NOT a fan of these at all ACCESSORIES - The arm accessories sit well on my arms, even when moving them around. They have elastic white bands that keep them pretty secure and they fit nicely, even if my arms are a bit thicker. Same plastic metallic details, though the color is golden on those, like the leaf charms, the bell etc. The inside of the armbands has a semi-transparent green fabric where there are leaf charms again. The bracelet is a bit big for my wrists (I have very thin wrists somehow), but it is adjustable, so no problems there. The leg sleeves are alright. The fabric is stretchy, with a hard detail on the top with some metallic stars and there is the same gold metallic detail as on the dress, but you can't really wear them with shoes, so useful only for photoshoots/home wear etc. The ears are adorable and easy to put on. Surprisingly secure, for pieces of soft plastic. More of the upright classic elf ear than Nahida's lower one. I lucked out, since those are pretty close to my skin color too (I am pale with mostly pink undertones) The leaf on the hair is cute, but I will probably take it out and put it on a different way, since it is attached to a black clasp and it sticks out on the white wig. The headwear and ponytail accessories are a little big (I think just putting the ponytail accessory and one of the headwear pieces looks best) They are made out of a leather-y? fabric, attaches pretty nicely. Overall, it is pretty great!!! 4 stars just for the shorts and some minor problems, but I LOVE IT!
Astra

Greece
01/19/2023
Sooo Gooood
the most beautiful and comfortable cosplay of my life no things to break good sizes arrived in a very short time thank you very much for those cosplay I'm so happy !!<3.