Thank you very much for your love for Uwowo Genshin Impact Series. Based on the new characters of the Genshin Impact, in this article below, we will introduce the costume details of Rosaria, Hutao and Ganyu and we also prepare the NEW ARRIVAL SALE EVENT(UP to 32% off) at the end of this article.
Uwowo Genshin Impact Rosaria Cosplay Costume
Firstly, We will introduce you to the details of the Rosaria costume, which was designed by designer 雪瑶. The cosplay comes with: a hat, tops, shoulder accessories, belt, two thigh belts, cryo element vision, ankle accessories, two wrist belts, two arm hoop, skirt tailing, gloves skirt, fishnets, wine red pantyhose, short pants.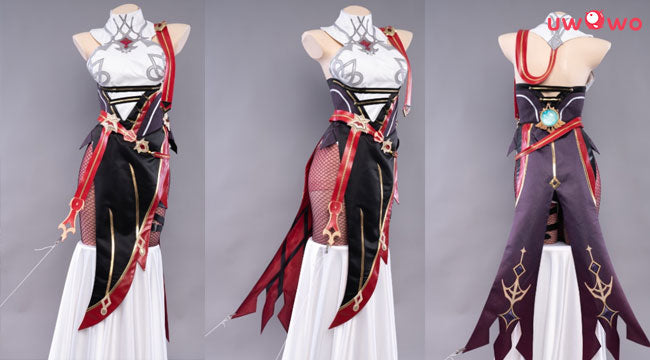 Rosaria Cosplay Costume full set referes to the game within the 3d modeling prevails, the overall fabric using a combination of leather and thick satin digital printing, the exquisite chest type having certain amount of regulation.
Upper body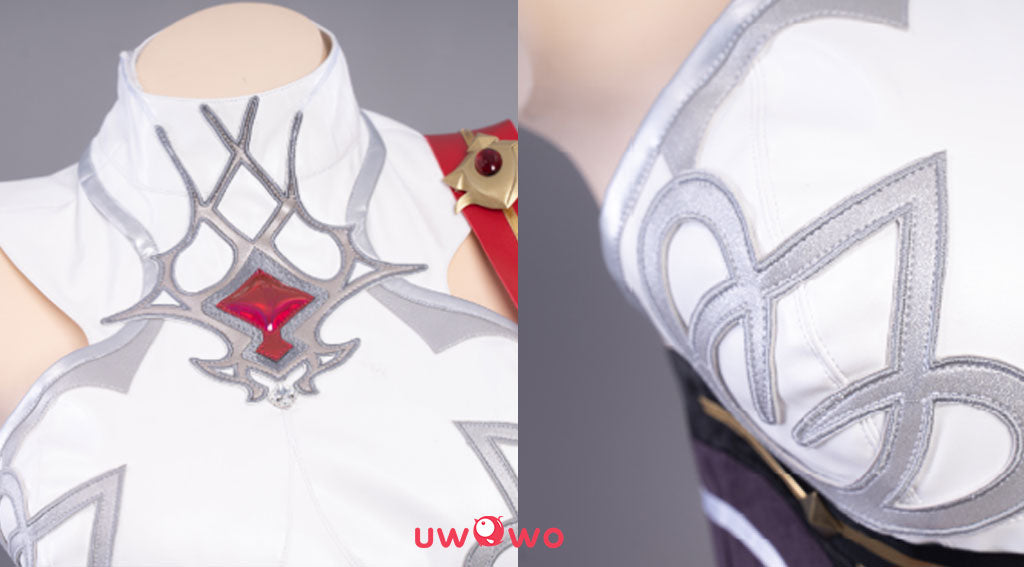 Top chest is decorated with three-dimensional patch embroidery chapter, embellished with three-dimensional stuffed cotton patch process in order to fit human body. We made the collar at moderate height. You can clearly see the details under the chest with decorative patch leather hollowing processing edge embroidery.
Shoulder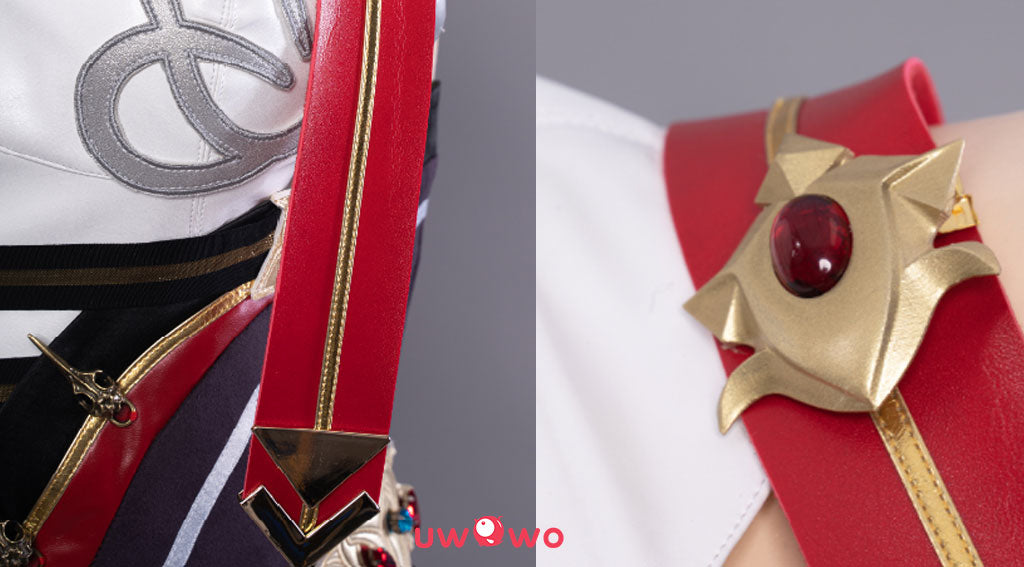 The lower end of the shoulder straps embellished with metal hardware in moderate weight. We made special mould using fish mouth clip so that you can wear at anywhere of your shoulder straps.
Waist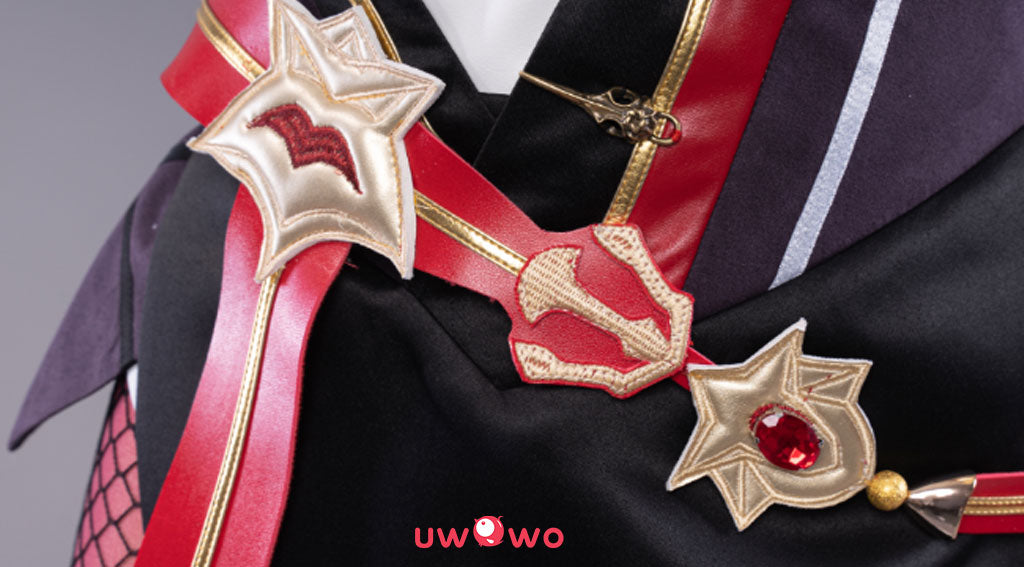 We use the hand-sewn waist bronze vintage accessories to restore the persona. The waistband side hanging belt is fixed with three-dimensional embroidery chapter embellished with gems. You can easily put on and take off the Velcro switch at the back. For the embroidery chapter, the stitch count is dense with cotton filled in.
Hem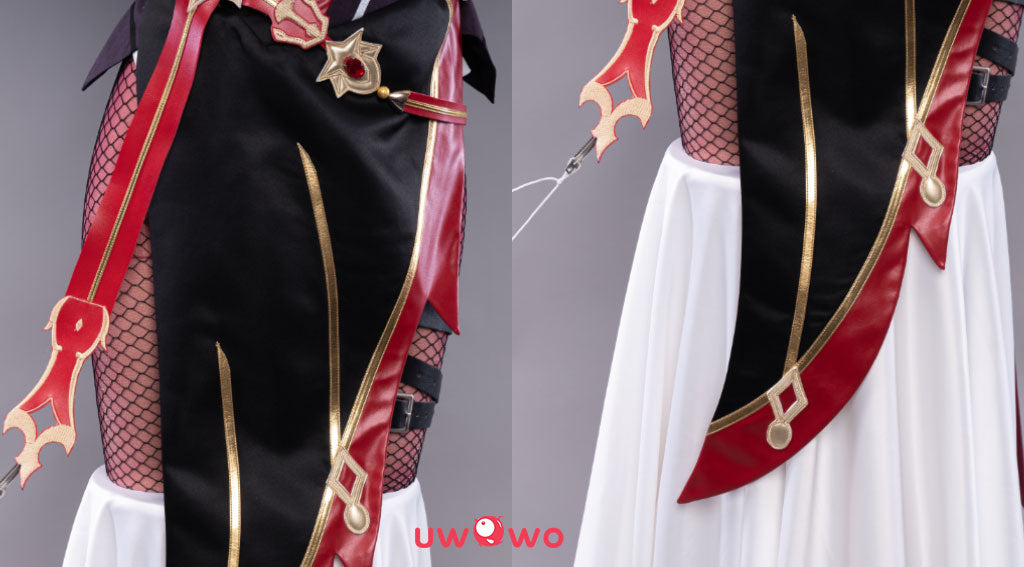 We use gold leather strip applique process in the hem part embellished with hollow embroidery pedant to deliver a 3D three-dimensional sense. Two pantyhose overlay, the inner layer of burgundy bottom silver stockings, the surface layer of small hole mesh socks to show good effect. Leg decorative leather circle adjustable circumference large is suitable for a variety of body types to wear. We also add elastic tabs to easily fix the end of the belt. Back hem is printed in three-dimensional, face lining fabric overlay light process processing.
Back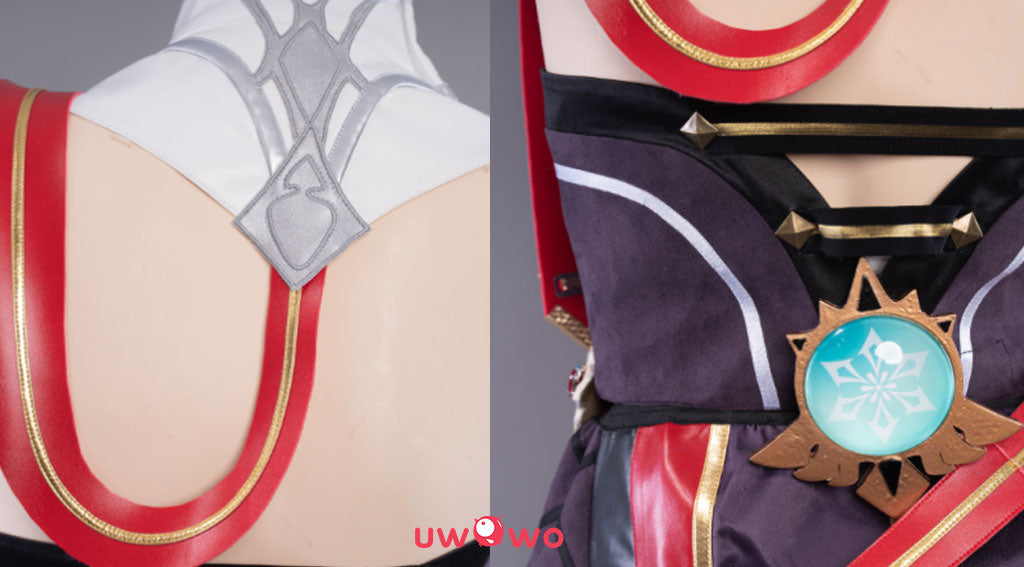 We use embroidery badge at the back of the top. The garment has velcro openings on the side to enable easy on and off. The back also has an elastic band and velcro switch design that can be pulled open to a larger extent. The customized Cryo vision which hangs off of her waist on her lower back can be worn via pins.
Headdress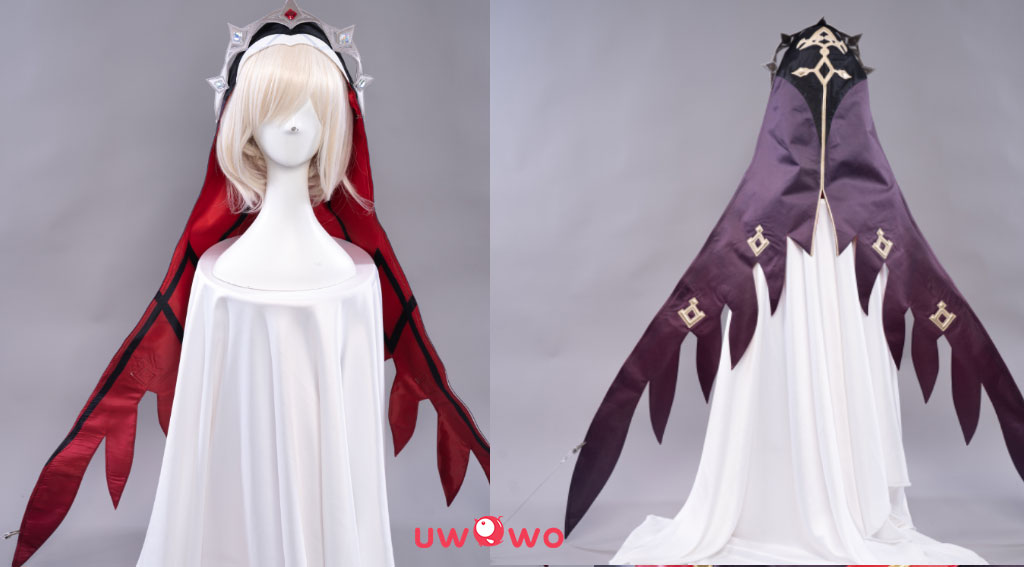 The nun's veil with a three-dimensional crown, embellished with red and illusion diamond-shaped Yak diamonds, is worn on the inside through a fish mouth clip. From the back, the extra-long gradient veil and tail feather shape truly restores the persona effect. The veil is embellished with leather embroidery badge. We can clearly see that the brim leather has thickened sticky lining.
Accessories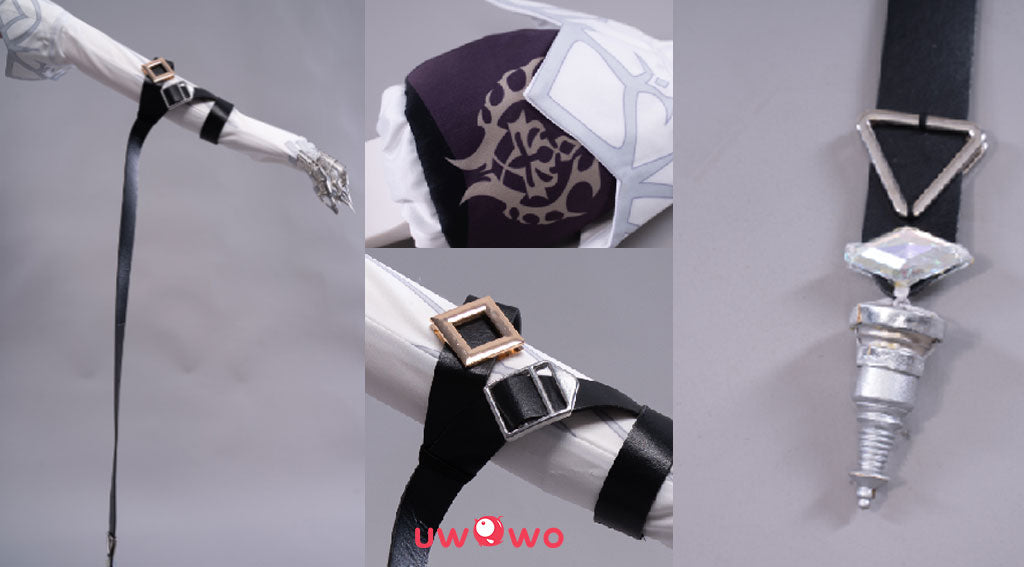 The wrist decoration comes with an elastic, easy to wear when you wear. Over the elbow gloves with stretchy fabric, suitable for all body types to wear. We designed the sleeve band with its own elastic band, and the inner viscose lining to make a lantern shape.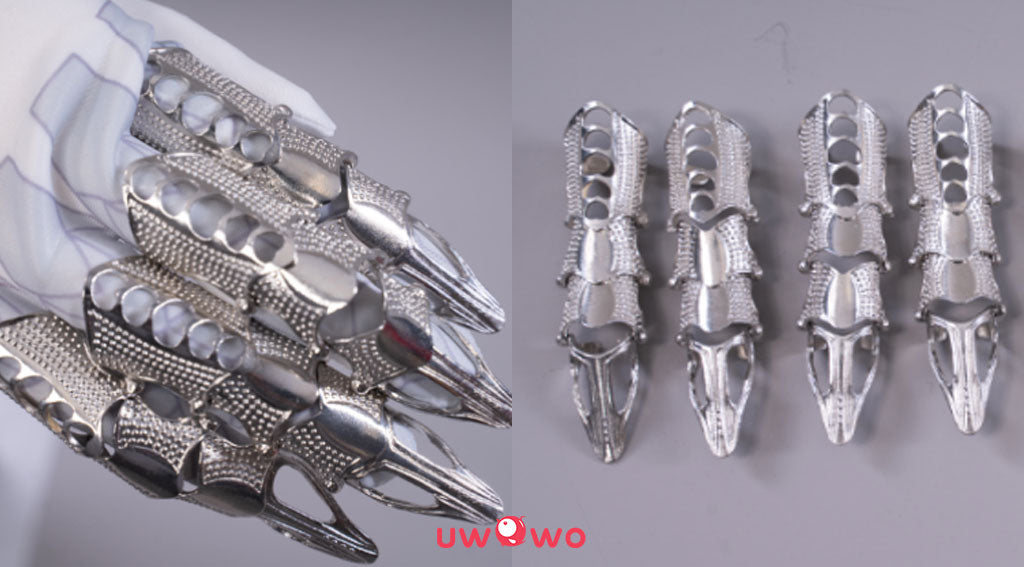 We additionally made a free bending metal finger glove, if necessary, you can order SET B in our store.
Uwowo Genshin Impact Hutao Cosplay Costume
Design by 丽, Uwowo Genshin Impact Hutao Cosplay Costume comes with: a hat, collar, coat, 8 rings, pants, bracelet, socks, sock accessories.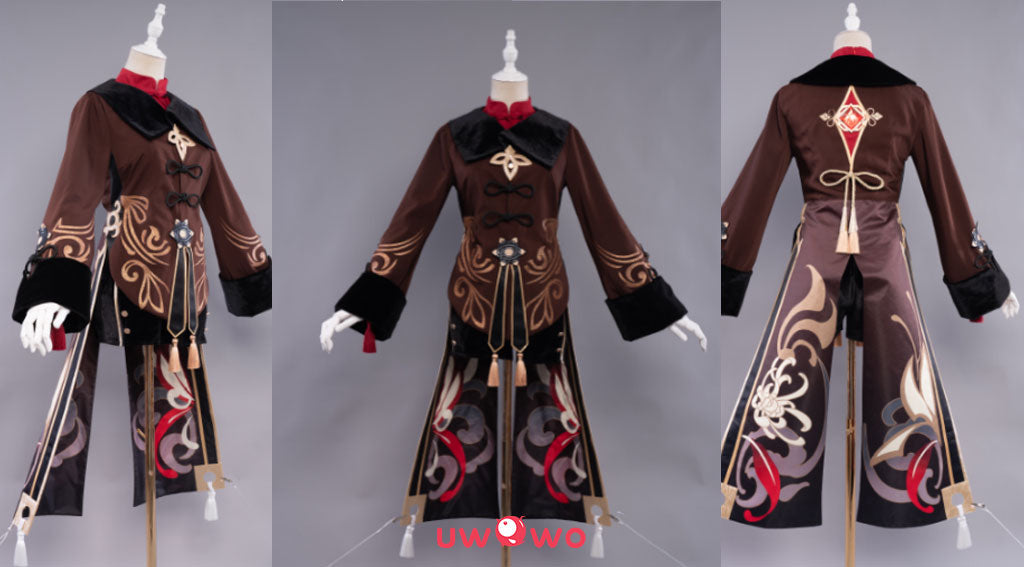 Hutao Cosplay Costume full set refers to 3d modeling in the game, fabric using a combination of peach twill(a higher grade polyester that is cooler to wear. This fabric does not wrinkle easily and is durable) and Korean velvet. We follow the character prototype, carefully drawn the back hem of the print. The overall back shape waist-slimming, back hem can show your long legs.
Upper body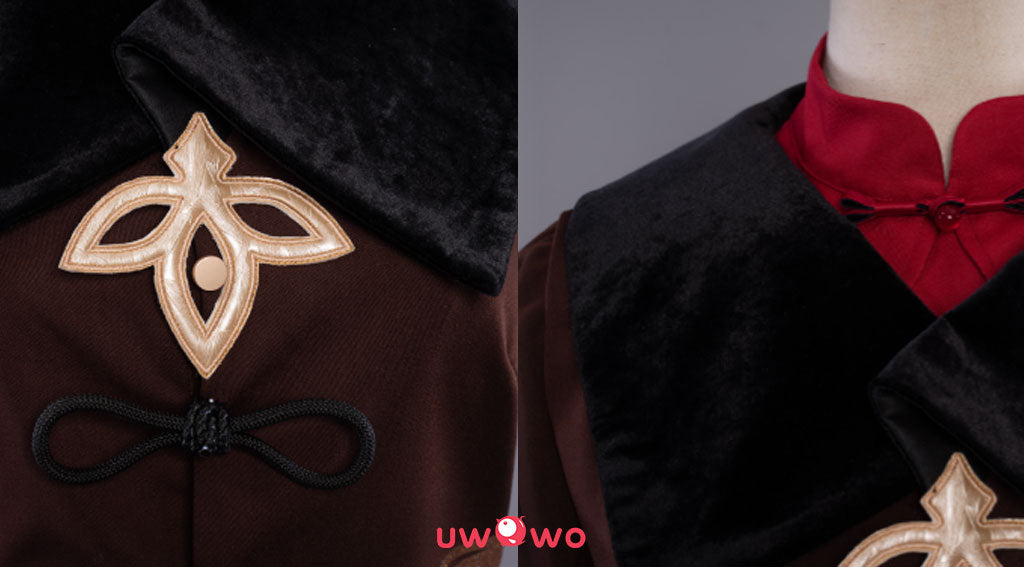 For the large lapel part, we used velvet fabric, and the lining inside is laminated white non-woven. The front and center embroidery chapter uses a built-in sponge to give a three-dimensional effect. We also handmade the placket coils with thicker braided rope. The cuff flap is thick and stiff, and the hand pried seam is fixed so that it is not easy to turn over.
Back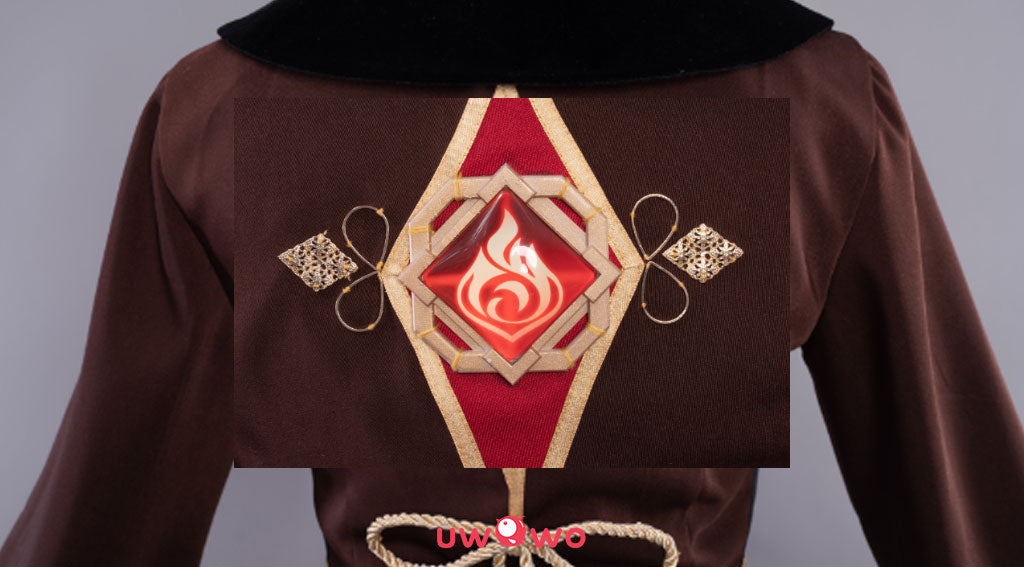 Through 3d modeling, we made her Pyro Vision at the back of her coat. The two sides are embellished with metal pieces of decoration to restore the details of the persona. The back waist rope knot bow adds cuteness for the character. As for the abdominal embroidered flower piece decoration, we used a concealed buckle fixed way, will not affect the front open wearing.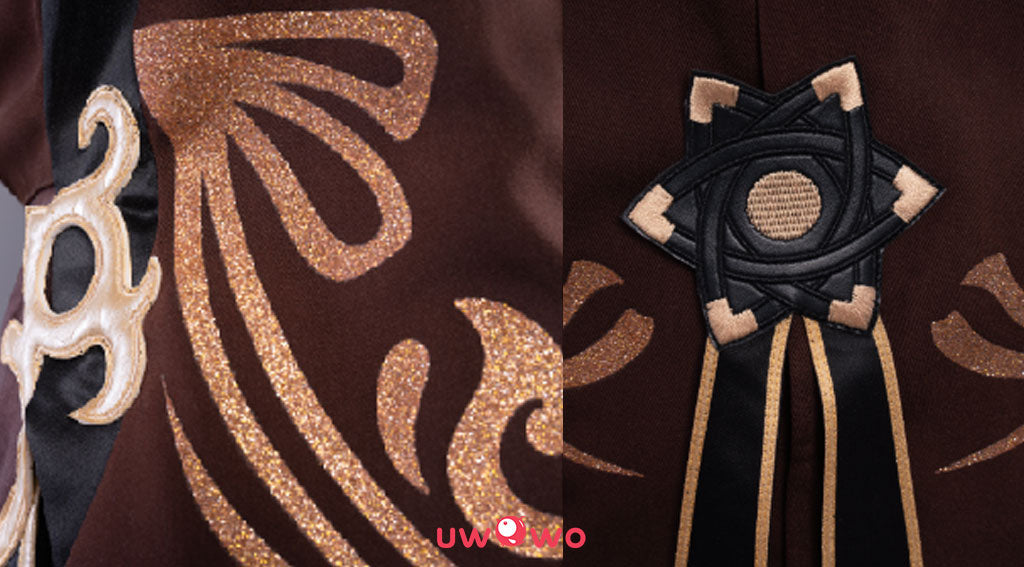 Shining, shining, who don't love the sprinkling gold powder stamping? Side waist decorative embroidery piece also has the built-in sponge to restore the effect of replica persona.
Lower body/Hem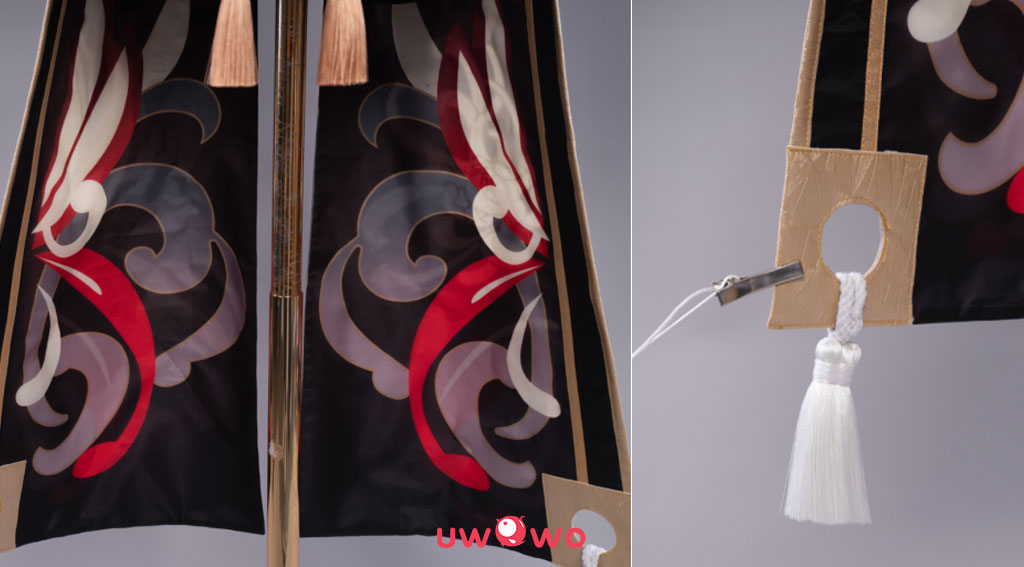 The pants we used are decorated with matte gold buttons, which look high class and beautiful. The cuff details are also restored in place, embellished with embroidery pieces and black plate buttons. The hem section has a beautiful gradient of floral pattern. The inner layer of the pattern is also perfectly restored. The lower corner hollow piece shape is tied with thickened tassels.
Headwear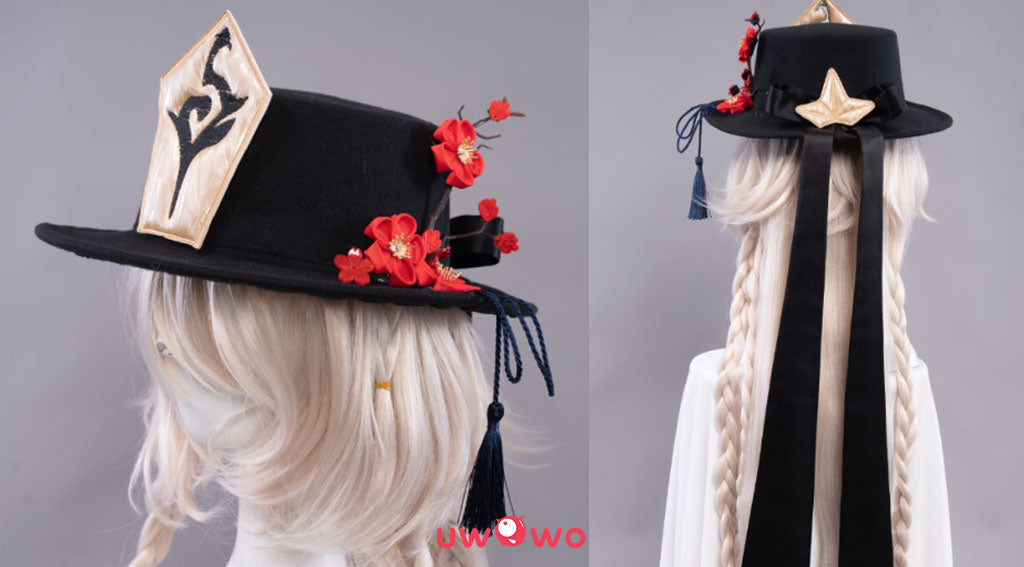 Our hat design is also trying to restore the details, the hat has many details of the accessories, such as embroidery chapter token, side embellishment of realistic painting branch kimono fabric flowers and imitation acetate flower piece, beautiful and exquisite. The back of the hat also has an extra-long hairband embellished with double-sided round rivet buckle, using embossed leather embroidery chapter.
Accessories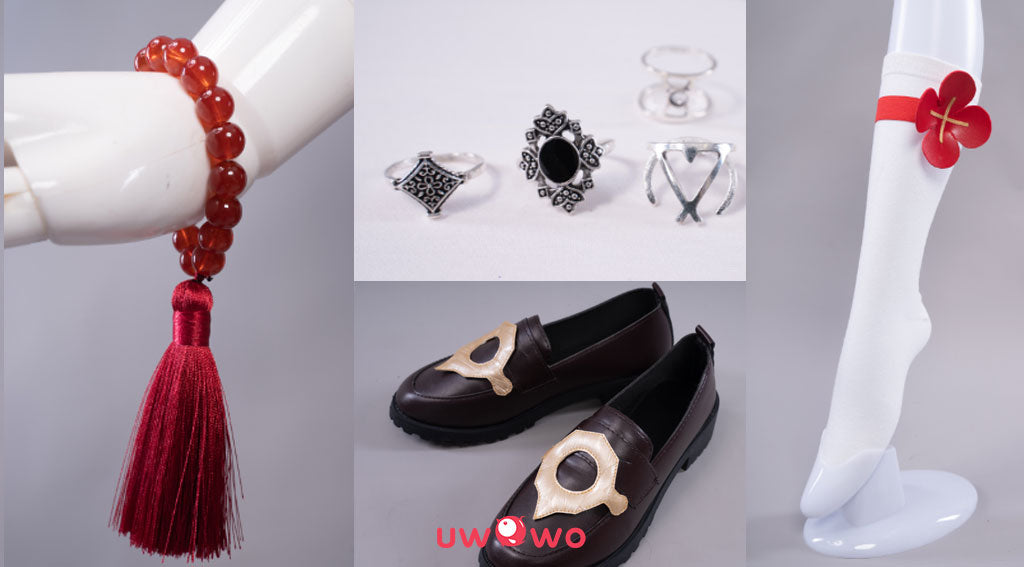 In addition to the restoration of clothing and hat details, Hutao Cosplay Costume has many other small accessories restoration, self-stretch line of imitation crystal strings, easy to put on and take off; ice silk tassel drapes nicely; left and right hand rings vintage restoration. The socks are decorated with four-petal flowers, we use thick leather production, with its own curvature, wide and stylish. You can easily put on and take off with elastic band. If necessary, you can buy it additionally.
Uwowo Genshin Impact Ganyu Cosplay Costume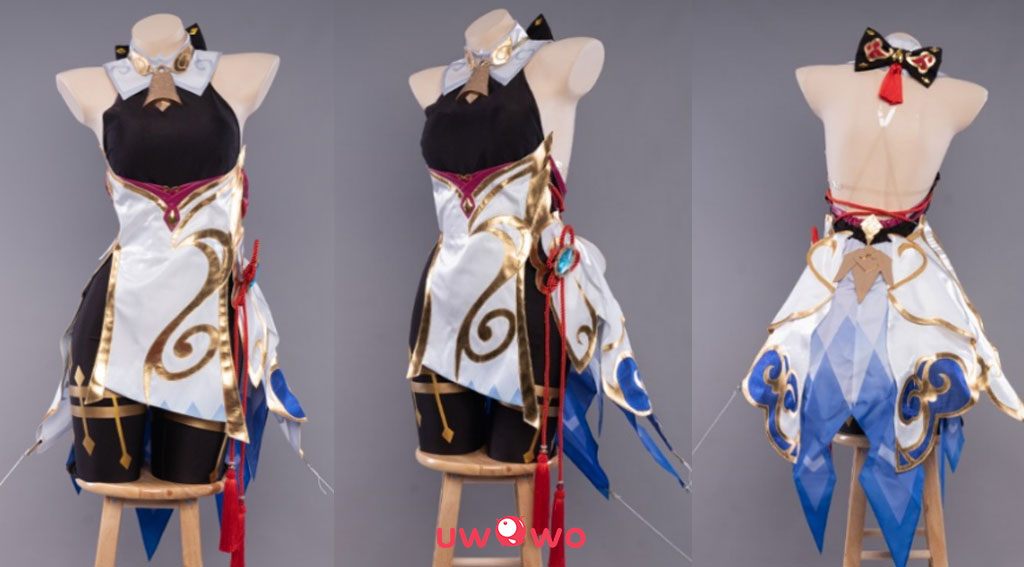 Design by 麦, Uwowo Genshin Impact Ganyu Cosplay Costume comes with: dress, high waist socks, two sleeves, two gloves, two head-wear, God's Eye Waist decoration, collar ornament, back collar bow, back waist decoration, two foot ornaments, two back waist lanyards and back decoration.
Upper body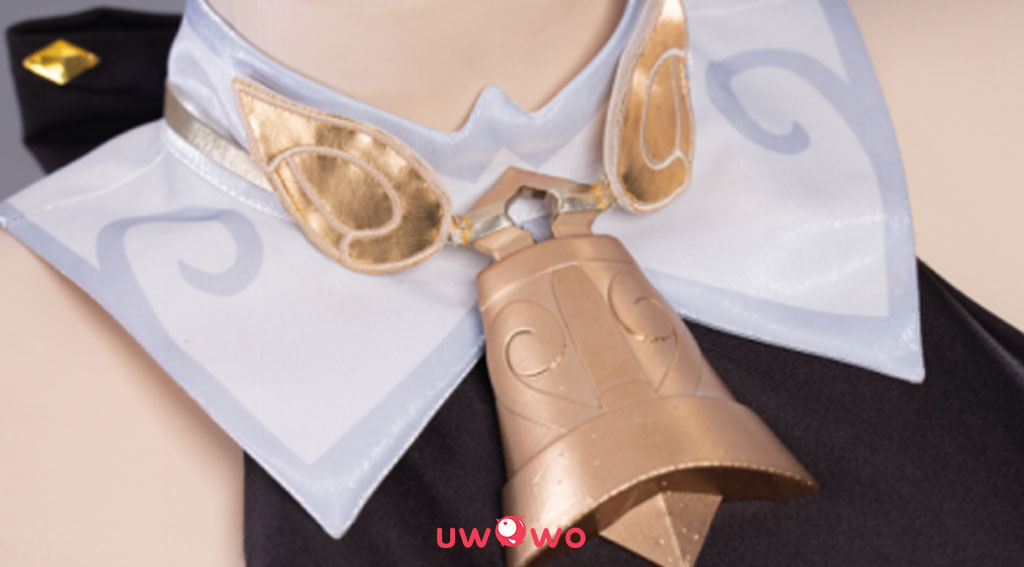 The front of the chest deliberately choose dark brown polyester with light, fitting the curve of the chest and some slight sense of luster. The body is made of white shimmering satin, which glistens with light and shadow when it is in action. Collar decoration in accordance with the original, we used resin molded metal tone and lacquer colored bells, left and right ends of the gold film leather articulated gold leather strips, especially shining in the sun. The center of the dress is hand-ordered with metallic diamond-shaped diamonds. Dress side waist resin open mold with gradient time stones, base bright silk nylon twist rope.
Bottom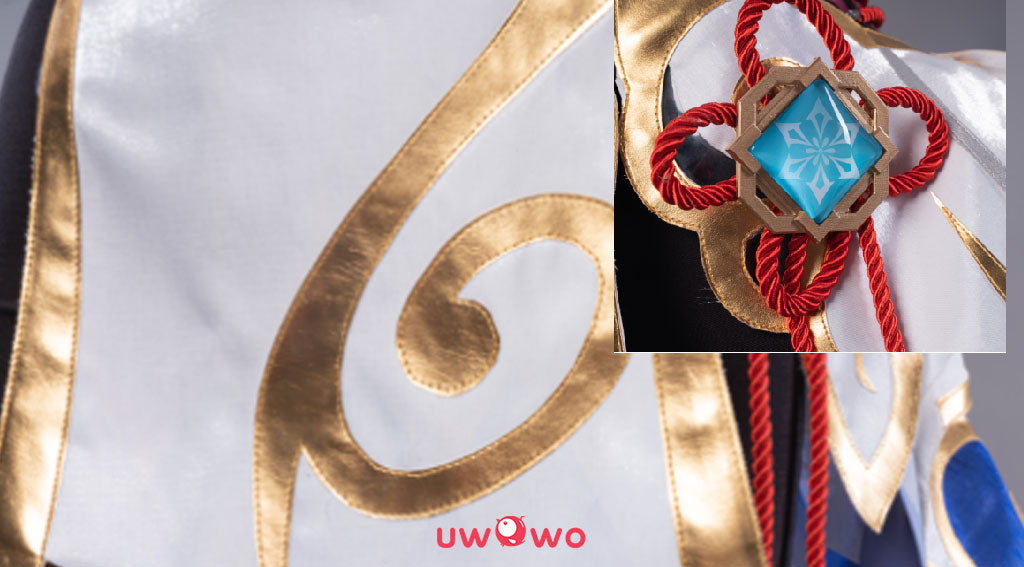 The lower half of the dress is hand cut out of gold laminated leather in a floral pattern.
The waist trim is made of acrylic panels pieced together and hand split to make a three-dimensional shape.The designer used gold laminated leather in the hem, hand-cut out the flower pattern patchwork treasure blue glitter yarn which is full of glory. Dark brown pants polyester have a light feel delicate.
Back
Let's take a look at the design of the back of the dress. Behind the collar built-in fishbone mesh support modeling, four corners decorated with gold diamond-shaped diamonds. The face of the gold film bright leather laser cutting after the composite red peach skin velvet.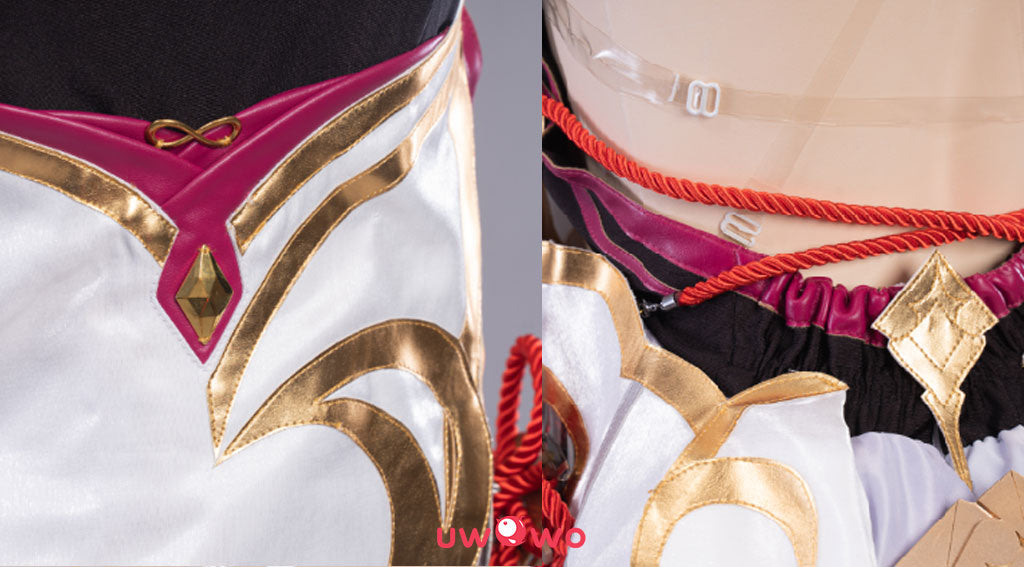 The back waist is decorated with acrylic panels, hand-sectioned to make a three-dimensional shape. The lanyard ends are hand-sewn smooth and long, and the tassels are strung with gold flying saucer beads and jade beads.
Accessories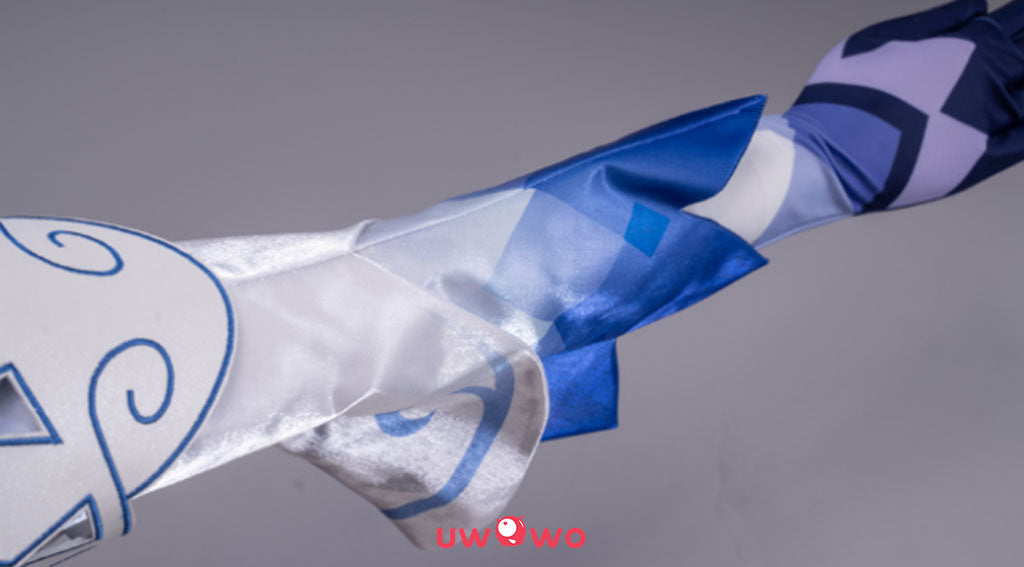 For the gloves, we use this white polyester matte printing with stretchy fabric to fit the arm and rubber bands not easy to slip. We used the shiny leather to make a delicate embroidery chapter with hand sewn fixed. Bright silk nylon twist rope braided four-ring knot with metal lobster buckle closure is easy to wear. Let's check the head accessories, black peach skin velvet cut and fill loose cotton to support the three-dimensional shape.
Uwowo Genshin Impact New Arrival Sale Event
Uwowo Genshin Impact Rosaria/Hutao/Ganyu Costume will be launch at APR 24 12:00AM PT and we prepare some events for this release!
1.Wishlist Event, Genshin Impact Rosaria/Hutao/Ganyu Costume
During APR 20~APR 21 PT, add three new release into wishlist to get a free wig for ALL!
*Add to wishlist amount reach to 50, get a free wig for 3 days(APR 24~APR 26 PT)
*Add to wishlist amount reach to 77, get a free wig for 7 days(APR 24~APR 30 PT)
( 1 costume get 1 wig, for example buy Rosaria's costume get Rosaria's wig | No need to add the wig to the cart, order this day and we will add the wig in your package)
Add them to your wishlist NOW!
Rosaria - https://bit.ly/3n60yom
Hutao - https://bit.ly/3v2iyma
Ganyu - https://bit.ly/3apFHHl
2.
Extra Gifts
* One Extra Gift(Paimon Figure) for order with the largest purchase amount
* First 10 order Genshi Impact Swords, get one same sword key chain  
* First 50 order Genshi Impact Series, get stickers
Lasting Period: APR 24~APR 30 PT
3.Giveaway Event
We're also giving away a free costume and wigs at Facebook.
Check it out at https://www.facebook.com/cosplayuwowo/
Lasting Period: APR 20~APR 30 PT
The review is now over, I hope you will like them and it help you on your future purchase, and thanks you very much for taking your time and supporting us that means a lot to us. Stay tuned for more products. :)