【Pre-sale】Uwowo Game Genshin Impact Eula Lawrence Spindrift Knight Cosplay Costume
$93.60

$93.60

Save

$10.40
---
---
---
We Also Recommend
---
Customer Reviews
NS

Thailand
01/05/2022
Leg Covers - S
I bought these because the legs that came with my costume from another store were way too large, and always fell down. Leg covers have slight stretch, thin leather material (not sure if it is called spandex?) and came with the 2 leg accessories. Those with larger thighs, the leg covers *DO NOT STRETCH AT THE UPPER CUFF* (the blue/black band at the top), only the elastic band stretches, and they might cut into your skin on a long day if you walk around a lot. But at least these don't fall down at all. 10/10 :) Really wish these were made a bit longer, but oh well. Slightly short for me, I had to stretch these ALL THE WAY UP. I suppose Size M/L =would have been better for me, all the way up instead of just sitting on my leg. Any excess can be stuffed in your shoes after all. For reference I'm 170/59, I wear Asia UNIQLO pants size L-XL but I have no idea if EU/US sizes are different. Minus 1 star - the elastic band buckle and gem were on the wrong side of the leg covers, but its nothing a bit of sewing can't fix.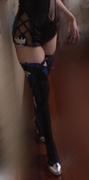 oink

United States
12/22/2021
worth it!
It's truly a beautiful costume. The intricacies are all good quality and it fits very comfortably... for the most part. According to the size chart and knowledge of the leotard's ability to stretch, I ordered a size L when I usually fit into XL, and it all fit as expected except for the sleeves, which don't stretch the way the rest of the costume does; those were much too restricting, and it proved an arduous task to lift my arms above my shoulders. Because it was so tight, I was always concerned that a seam may suddenly rip if I move around. Besides size, it could also partially be due to my height, so beware if you are tall! If only there were measurements of the arm circumference on the size chart... but alas. Don't let the stretchiness of most of the costume convince you into sizing down, get your normal size! Everything was all good quality. The "stockings" (?) ride down a lot if your thighs are more on the large side like mine though, so I advise sewing them onto sheer/**** shorts to keep them up. The vision came in intact, but its LED function was completely broken when I got it. I do not care much for the light-up feature so it didn't bother me, but if you're looking forward to the light up vision, be aware it's fragile and may come in broken! All in all, worth your money but not without its flaws! My package underwent a lot of trouble getting to me, but customer service was always pleasant and responsive. :) instagram - oinkinawa
sherachan.cos

France
11/28/2021
Eula Lawrence cosplay
Le cosplay est super mais les tailles sont un peu fausse surtout pour les chaussures ou j'ai pris du 42 alors que je fais du 40 et elle me vont pile poil, les épingles son hyper fragile, il y a plein de boutons que on ne peut pas savoir où les mettre et des boutons que devait être des tige mais la c'est des trou
Anonymous

Argentina
11/09/2021
Me encanto
Es la primera vez que compro un cosplay. Con respecto al traje, es perfecto y hermoso, me gustaron las telas utilizadas y no tuve ningun inconveniente con el talle XL al probarmelo. La compra la realice hace un mes aproximadamente asi que llego bastante rapido y las piezas que venian separadas estan en perfectas condiciones, menos la vision debido a que se despego (durante el viaje o antes de que llegue a mi casa) pero se puede arreglar.
Erika K.

Italy
10/09/2021
Beyond amazing
I waited this costume for a long time and honestly it's totally worth the wait. It's super comfortable to wear (the leotard has a zip on the front) and it fits me very well, almost like a second skin. The leg covers are what make this costume super high quality: they stay attached to the skin and don't fall down while you walk, plus the material used is great and doesn't make me all sweaty. The accessories are detailed and perfect. The assistance was also good, a special thank you to Christine that was always kind with all the questions I had during pre sale. I recommend it!