SEP SALE:$59-$3/$99-$5/$199-$10/$299-$15
Regular price
$45.00 USD
Sale price
$40.50 USD
Unit price
per
Sale
Sold out
Costume Size

The sizes vary for different costumes. Please kindly check the size chart in the description and measure yourself carefully. Most of our costumes are in Asian Sizes, please go one size up if are not sure about the sizing. 

Our models are mainly wearing M size.

* The cup may change for different costumes.

More reviews+pictures can be found on our IG highlights. (external link to our IG)
Presale+Instock

Any presale+instock items in one single order will be shipped when the presale items arrive.


In-stock items: *Labelled 【In Stock】on the title or in the description 

Your order will be processed and shipped within 48 hours. 

Pre-sale items: *Labelled 【Pre Sale】on the title or in the description
It usually needs few months for the batch production. Your order will be processed as soon as the costumes are in stock. Estimated time of arrival can be found in the description below. ETA might be delayed.


Contact us as soon as possible if you need any changes on your preorders.
Shipping Info

Shipping time begins after your order is shipped depending on the shipping methods you choose at the check-out page. Once your packge is shipped, a shipping confirmation will be sent to your email.


INTERNATIONAL SHIPPING
*Commercial Shipping: 7-15 working days 

*Express Shipping: 3-7 working days

*ePacket/China Post: 15-40 working days

Shipping Delay
Due to delays from the pandemic, from being short staffed and from handling high volume of packages during the holiday season, the international transportation and local delivery might be delayed.
Share
Attention: Better  choose one size bigger about the uniform~
Click the picture if you need Wig,Shoes,Sword.>>>
View full details
Customer Reviews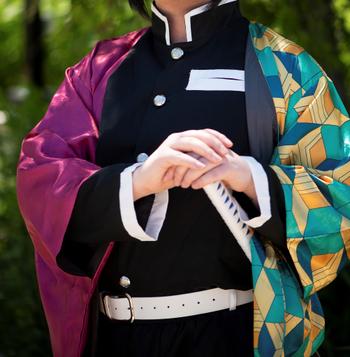 03/16/2023
Great quality, might need a couple adjustments for comfort
The quality of the costume was really nice and the overlayer moved really nicely with the wind which made for some beautiful photos! I was so happy to see the range of sizes for the black uniform itself! It allowed me to buy the same uniform for almost our entire group! Quality was very nice for all the pieces and we were really happy with it! The only issue we had(across any of the sizes we got) was that the pants were very tight where they gather just below the knee. I added fabric to each one of them to make them more comfortable! I resized the white leg bandages and attached them to a white leg sleeve and made them velcro to the pants so everything stayed up! Could be done with some light handsewing as well. Also added pockets which was a blessing and I'd recommend it if you're a bit sewing savvy!!
Amanda

Canada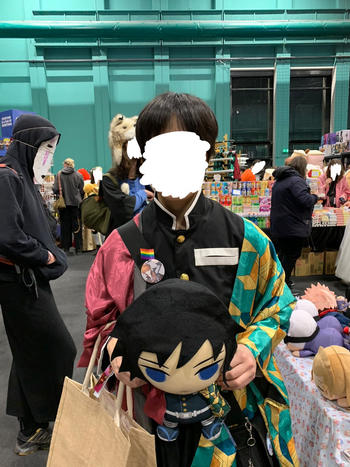 03/04/2023
Fast delivery, good quality & good character representation
I loved everything about the cosplay minus the white bandages since it's extremely annoying to get them to sit in one place especially at a convention Unless you have thick legs it's just very annoying to keep feeling that the fabric is slipping off
Ethan L.

Denmark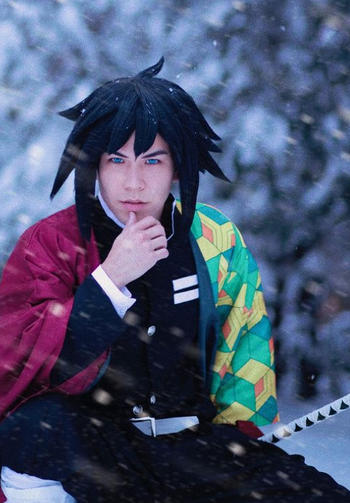 01/19/2022
Well made
Bought this for my boyfriend as he had ordered a haori from another supplier and hated it as it was really faded. I got my Shinobu here and loved it so we ordered it and he loves it. He loves showing off the detail in the fabric and its fits really well.
Jessica M.

United States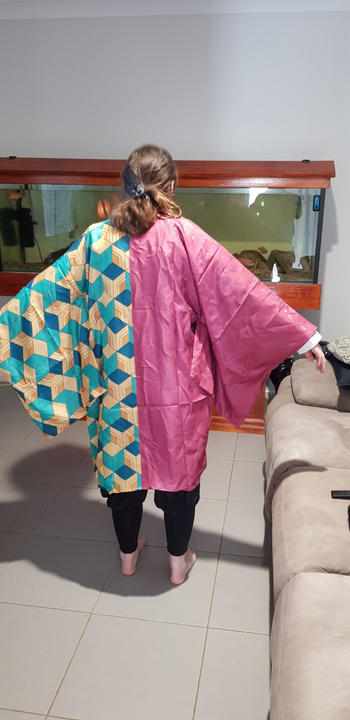 10/01/2020
Amazing quality reasonable price
This costume is perfect. Love it. Thank you soo much.
jodie b.

Australia
08/15/2020
Great quality costume Giyu Tomioka!
I was fall in love when first saw Tomioka Giyu in anime! I decided to cosplay him and i wanted to find the best costume in the internet as I can. The main problem to find is a haori. And I looked at many varionts of it. Luckily I saw this costume on UWOWO! The fabric is very soft and delicate with numerous flowers. It look great at photos and very comfortable to wear. It have inner part and looks like authentic japanese haori. You can wear haori without the costume. And it look great with your normal outfits! The pants and jacket are very high quality. The size chart are correct to the cosplay so you have no worry to buy the smaller or bigger size. Pants include ribbon on waist and elastic parts on legs. This is very comfortable! My boyfriend wore this costume and it look as good as on me because of this elastic elements. I like the details in this jacket. They includes great print on the back, collar, fake pocket, and even the extra buttons! I can use this costume for another characters and I Love it! Plus with costume you get the belt and the leggins. I saw leggins from another companies and they was bad quality and didn't looked legs right. That's why I like these leggins- they include ribbon and all the parts are separate which is more comfortable to wear and they didn't fall from leg while you walking. I live in Russia so I have mant problems with delivery. But UWOWO reackts quicly and I have no problem at all! Plus the customer service is wonderful! This was on of my favorite interaction and now it is my favorite costume! Thank you!
Anna

Russia
07/13/2020
10/10 amzing
Hey guys! So I got this Giyuu Tomioka Cosplay from uwowocosplay and I couldn't recommend them enough! There is many reasons why I'd recommend it some being because the fabric being High quality and the colours being rich and eye catching the size i went for was the large size since i have a bigger build and it fit amzing and it so comfotable I was particularly blown away by the quality of the accessories being the belt and leg connectors for him and once again Uowo cosplay blow me away by there attention to detail A issue I have with many cosplay companies are the size charts are often generic and incorrect where I have independently verified that the measurements on the Size chart are correct to the cosplay one of the best things i could say about it can be the choice of bigger sizes since i have had issues with not fitting into smaller sizes so i cant recoment them enought Thank you Uowo Cosplay for giving me the chance to review this product and I highly recommend you guys check them out so in over all i would by from these guys again 10/10
ewan s.

United Kingdom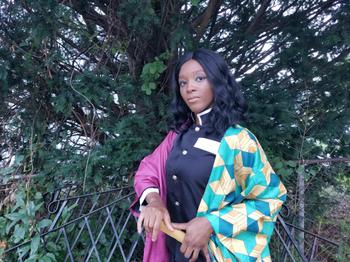 07/13/2020
It's So Pretty!!
I was expecting something that was of high quality since I have ordered from this website before, but what I received was beyond my expectations! The cosplay was packaged nicely - the haori and demon slayer uniform were separated in two different bags. I am 5'7 and purchased a medium, it fit as expected. My favorite part was definitely the haori, it has beautiful almost reflexive flowers adorning the entire piece, and not a single seam in-between them. It was delicate to the touch and very soft. The haori will look wonderful in pictures taken with natural sunlight and good wind, since the material is so light and soft that the sleeves will be taken up by the breeze and the reflective flowers will almost sparkle in the sun. I really liked that the leggings are held together with velcro and have an elastic band that is used to help them keep their shape when they are put on. Keeping them all uniform can be a tad difficult, but once you get the hang of it, they look great. The cosplay even comes with extra gold buttons - by the way, all the buttons are quite detailed. All in all, the uniform makes me feel pretty cool, i'm sure it'll get more than a couple head turns at conventions. What can I say? It's a fun cosplay, looks great, feels great, fits great - what's not to love about this!
Ugonna

United States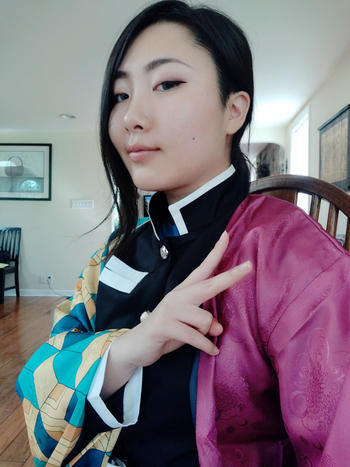 07/09/2020
Amazing fit and really great quality!
A quick breakdown of the different costume pieces: Haori: 5/5 The haori material is a lot softer that most costumes you would get from other manufacturers, and it has an additional pattern to the fabric, which gives it that extra level of quality. Theres also a pocket in the sleeve which you can use to hold some necessity at a convention. I probably wouldn't recommend anything too heavy, but you can definitely carry your phone and wallet around. Uniform: 4.9/5 I'm pretty much just nitpicking, but the front pocket isn't a real pocket, however the haori sleeves make up for the lack of storage. Though if you're not wearing this out to an event, this isn't an issue at all. The waistband and leg wrappings have elastics in them so they can definitely be adjusted if you need to! Overall: 5/5 This is a great quality cosplay! The fit is very accurate to the measurements given, so there's no worries about something not fitting! The costume itself comes with a quality certificate tag, so you actually know what material is used and how to wash it, so theres no more of the "can I hand wash this or do I HAVE to dry clean it" guessing game! The customer service is also spectacular, so if there are any questions, just reach out to them!
Laeythis

United States
03/10/2023
Good fit.
Sadly this was to small for me so I gave it to one of my nieces for her to wear and it's perfect for her.
Crystal W.

United States