---
We Also Recommend
---
Customer Reviews
Ashley C.

Mexico
12/22/2021
GREAT
it is a really good product!
Leslie

Mexico
07/21/2021
Lo vale!
El envío fue rápido considerando el mío fue envío express, la tela no es de la mejor calidad pero es cómoda, no es tan ligera pero ni tan gruesa pero tiene buen movimiento! el bamboo es una especie de cartón envuelto en telita pero cumple su función, la faja personalmente me quedó algo apretada pero no hay nada que no se pueda arreglar, el kimono y el haori me quedaron bien en xxl! El elástico de los calentadores viene como para que lo cortes tu mismo (ngl la mejor opción) Pedí también la peluca aquí mismo -y sé que aquí no va esa reseña- pero tiene buena calidad! -adjunto pequeña fotito- Tiene unos agujeritos en el kimono y el haori que no tengo ni idea para que son pero nada que no se pueda arreglarx2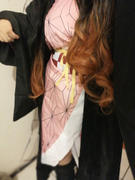 Tamara

Chile
Megan

Canada
01/29/2021
Worth your money
My sister bought this cosplay with her xmas money and couldn't be happier. She ordered a small with DHL shipping and it arrived in less than a week and fits her perfectly! Some things to take note of though 1. the armholes on the yukata(?) and coat have these weird holes. Obviously intentional but idk what they're for lol 2. the orange tie on the waist is just a simple shoe string type thing, but not rlly a problem 3. the ribbon on the leggies is just 1 large ribbon instead of 3 for each section of the legs, again not a problem and easy fix but things you should take note of. 4. the fabric is lightweight so I would not recommend doing a shoot in the snow unless u wanna freeze. The cosplay is wonderful though and my sister is very happy with it!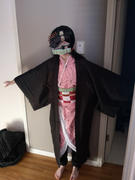 Antigoni Q.

Germany
01/01/2021
Super für Cosplay
Gefällt sehr gut! Größe XL für 1,62m und 62 kg! Passt richtig und Farben und Form wie im Bild dargestellt. Ob man das Kostüm waschen kann, weiß ich nicht, da noch nicht probiert. Anlieferung war okay und Qualität ist auch gut, habe auch weitere Kostüme. Tiktok @satanslovelychild