Regular price
$102.00 USD
Regular price
Sale price
$102.00 USD
Unit price
per
Sale
Sold out
THIS COSTUME SIZE UP TO XXXL!!!
1.It is best not to place pre-sale products and spot products together in an order. 


2.When there are both pre-sale and instock items in an order, we will ship the order after the pre-sale products are in stock.
3.Pre-sale Orders can change the size and can be cancelled whenever before sent out, please contact us if you need to change the size or cancel the order with your order number.
S/L in stock, M/XL/2XL/3XL will be in stock in Oct or Nov,further notice if there is any change of date.
Click the picture if you need the shoes.>>>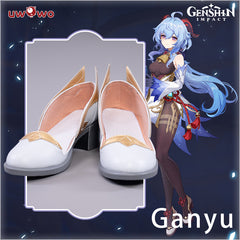 CN @_moincosplay_ | PH @photography_by_jacky
Share
View full details
Customer Reviews
Leon M.

Australia
Cami

New Zealand
01/07/2022
Not only a beautiful cosplay but the customer service is amazing
I just want to start off by saying I LOVE the cosplay so much!! The customer service is super helpful and they really make the effort to meet customer standards. I ordered a size M but decided I didn't want to risk it being too small and I asked to size up to a L even though it said L was in pre sale, the next day my costume had shipped and due to shipping delays it took a month and a bit to arrive but I checked the sizing and it was a L!! It fit absolutely perfectly when I tried it on almost like it was tailor made for me and I'm very happy that I sized up now. The only complaint I have was the bell arrived broken but it's fixable with glue so it's not that big of a deal. Definitely ordering from UWOWO again, this store is my go to store.
Drianah K.

United States
12/06/2021
Amazing
The cosplay fits perfectly and is amazing quality. Ny only complainy is the chest area because even with the side clasps i was very nervous of something popping out. But surprisingly everything held well. I wish the vision was led like the others but oh well
oink

United States
10/23/2021
Real bang for your buck
I ordered this cosplay with really high hopes and I can comfortably say they were all met. I was a little anxious that the costume would run small, but I was so relieved to see it fit like a glove and exactly as described! There were some wonky things (like the gold bow in the middle of my dress a little off-center, and the ribbons that go on your ankles were different lengths- both of which were too long) but they're easily fixed and/or aren't a bother. They're owed to manufacturing hiccups rather than the actual quality, and the quality is absolutely stunning. The only thing a little tight was the elastic at the top of the sleeve, it ran a couple of cm shorter, which is fine! Nothing came in broken. Everything is absolutely worth the price you pay if you're willing to be patient with a little bit of uniqueness in the craftsmanship of your costume! I was aware of every part of shipping and handling, I always knew where my package was, and it arrived well within the anticipated range. The costume is obviously delicate, so be careful with it too! Don't stretch or pull on any parts of it too hard or you might rip some threads and seams. Here are some quirks of the costume that I think are worth knowing: -The dress has built in pads for your chest, which I thought was great! -The elastics that hold your top together in the back are adjustable in length. -Much of the accessories are fastened to your costume via safety pinning, such as the vision, neck bow, back gold pieces, etc. -The dress is not a bodysuit, and the tights are like leggings with the elastic riding down at times like regular pants. I recommend wearing biker shorts or something similar to prevent this. -There's a short zipper at the top center of the back of the "skirt" to help you wriggle in! -The collar bell is one solid chunk- the "diamond" inside it does not move. Also, the back of the bell is flat! That's all! Overall you certainly get the quality you pay for, it's a heavenly costume. :) my Instagram - oinkinawa
gintku

United States
10/12/2021
Amazing Ganyu cosplay!!
I originally was going to order the dokidoki ganyu cosplay, but I got the Mona one from them too, and it was so glittery and I overall wasn't a fan. so I canceled ganyu (it was a presale) and got this ganyu cosplay from uwowo. I asked if they could ship it out asap, they were so nice and shipped it out the next day. The customer support is amazing and so nice! I love uwowocosplay so much and I recommend any of their cosplays! I got the medium for this, and I probably could've fit into a small better, but I'm find with an M. It's so gorgeous and the accessories and details are gorgeous!