【Pre-sale】Uwowo Game Genshin Impact Inazuma Yae Miko Cosplay Costume
FAQ:*How to attacth the back bow? -Use a hair dryer to heat the bendable part and hold it for a while. Then tuck it on the belt.
1.It is best not to place pre-sale products and spot products together in an order. 


2.When there are both pre-sale and instock items in an order, we will ship the order after the pre-sale products are in stock.
3.Pre-sale Orders can change the size and can be cancelled whenever before sent out, please contact us if you need to change the size or cancel the order with your order number.
Due to covid-19, next batch has been delayed to mid-May, further notice if there is any change of date.
Click here if you need the wig or shoes>>>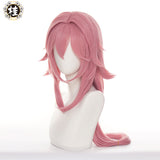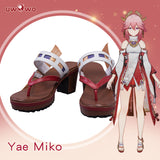 ---
We Also Recommend
---
Customer Reviews
05/09/2022
Fits well!!
Absolutely In love with this cosplay details are absolutely beautiful!!!
Sumi S.

Netherlands
04/27/2022
Perfect
I love it it fits perfectly and is beautiful
miya

Italy
04/22/2022
it could be better
Service and shipping are excellent; unfortunately i was super demoralized when my package arrived; the quality is so good but with my order I think there was a problem: the finishes were dirty and yellowed and the accessory on the head arrived broken (this they refunded me 1/4 of what I paid) I will definitely buy again but I hope it doesn't happen again that I find a cosplay already ruined!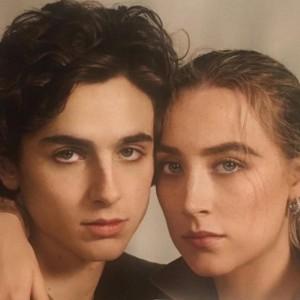 H
Holly

United Kingdom
03/24/2022
Nice but unsure how to attach :(
Bought size L for uk 8/10 and it fits well, the pieces are kinda cheap but theyre okay and look good if youre not overly close. i really cant figure out how to attach this though
Hello, you can use a hair dryer to heat the bendable part and hold it for a while. Then tuck it on the belt. For any questions, please reach out to our support team.
Kate

Germany
03/14/2022
Pretty good but don't buy the accessories
The cosplay is beautiful! The negatives I have with it are the very thin parts, you need to buy extra pants since these are see through. But also the accessories are rather cheap, except for the earrings. The head and chest pieces sadly both arrived broken for me, so I don't recommend getting these. Also the Ribbon is a bit stiff, but overall an ok cosplay! :)