Regular price
Sale price
$29.00 USD
Unit price
per
Sale
Sold out
This item can only be ordered individually .
This item can only be ordered individually .
This item can only be ordered individually .
The sword does not participate in free shipping event.

Share
View full details
Customer Reviews
Owi

Italy
11/10/2021
Vortex Fantastica
E' stata spedita in un imballaggio super protettivo e divisa in tre parti. E' riuscito a resistere ad un volo di qualche metro causato dal corriere. All'interno del pacco la polearm si è presentata subito nelle sue bellissime fattezze. Ad una ispezione più da vicino però ci sono alcuni punti dove il colore è sbiadito oppure è mancante. Il venditore è stato così gentile da rimborsarmi anche se in modo irrisorio, ma sono sempre super gentili con me e li adoro. Da lontano questi difetti non si notano e resti davvero sbalordito dalla bellezza di questo prop. Il bastone è molto leggero e realizzato in cartone, la punta e le altre decorazioni sono in pvc. Unica nota negativa è che a fine dell'evento fieristico del cosplay, all'improvviso si è staccato l'ultimo pezzo del bastone. Ho compreso a malincuore che purtroppo si era rotto il perno che univa bastone con decorazione finale. Ancora non ci ho provato,ma spero sia facilmente riparabile. Per com'è stata realizzata, il prezzo base è davvero onesto, purtroppo la spedizione è molto alta ed è impossibile effettuare ordini cumulativi a causa della grandezza del pacco. Io consiglio sempre questo negozio perchè sono affidabile, super disponibili e super gentili. Quindi amateli come li amo io. Sicuramente continuerò ad acquistare da voi, siete fantastici!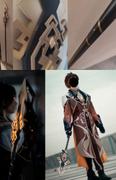 Mizu

United States
07/29/2021
Vortex Vanquisher
The prop was shipped a few days after I placed the order and came really fast for me since I chose expedited shipping. It is just as pictured and is very light and super easy to assemble. Upon inspection, there are a few dings here and there as expected, but aren't noticeable from afar. It was shipped unassembled and individually wrapped and cushioned between two maybe half-inch long sheets of styrofoam, and that was pretty much undamaged, so it wasn't moved around too much during the whole shipping process and journey from halfway across the world. It is pretty large/long at basically 6ft, and the detail in the top and bottom pieces is excellent. I was hesitant to purchase since I have never even heard of this website and saw a bunch of negative reviews, mostly regarding the outfits, but I took a chance at the low price (but super high shipping O_O) and I am glad I took the risk and got something great. XD